The removal of weak banks through mergers and acquisitions, one of drastic measures taken by the State Bank of Vietnam (SBV), has somewhat improved the health of the banking system and won trust from people, according to experts.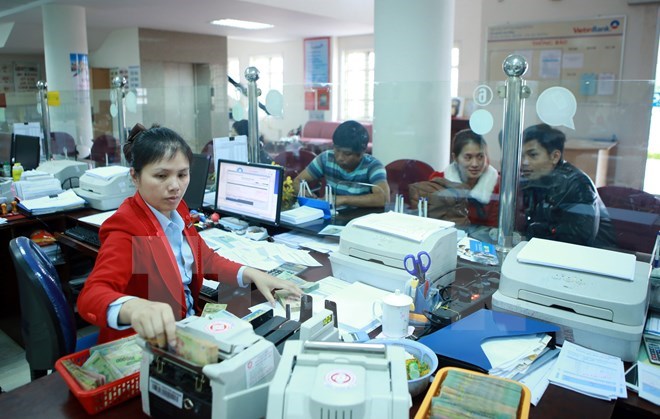 What is new in 2015, the last year of the three-year project on restructuring the banking system, is the acquisition of small healthy banks by major State-run commercial banks, the World Bank said in a recent report on Vietnam's economic development. 
The Maritime Bank merged with the Mekong Bank; Techcombank acquired the Chemical Finance Company; Sacombank merged with Southern Bank; and BIDV merged with MHB. 
Besides the mergers, the SBV also bought three weak banks - VNCB, Ocean Bank and GP. Bank - at the price of 0 VND, an unprecedented move in the history of Vietnam's banking system. 
According to SBV Deputy Governor Nguyen Thi Hong, the SBV bought weak banks at the price of 0 VND each share because financial reports from independent auditing companies showed those banks lost all their values because of poor performance. 
According to experts, the unprecedented move is a timely initiative in the current circumstances. 
Le Xuan Nghia, a financial expert, said the purchase helped cut time and efforts needed for restructuring the weak banks. 
Nguyen Duc Huong, Board of Directors Vice President of the LienVietPost Bank, said the purchase of weak banks at the price of 0 VND has prevented a domino collapse in the banking system as well as helped protect the rights of depositors. 
The International Monetary Fund's resident representative for Vietnam , Sanjay Kalra, said the SBV's imitative is an encouraging move but it should be considered as the first step towards a suitable framework for the liquidation and bankruptcy of banks. 
Experts also agreed that despite some successes, the banking system still needs an overhaul to the core. 
Vu Dinh Anh, an economic expert, said the restructuring has achieved some goals in terms of quantity but it will need more time to improve the quality of the banking system, which requires each bank to implement their own restructuring plans to boost healthy finance and operation effectiveness.
VNA