The Vietnam Association of Seafood Exporters and Producers (VASEP) has revised down its shrimp export forecast to US$2.9 billion for this year, over US$1 billion lower than last year.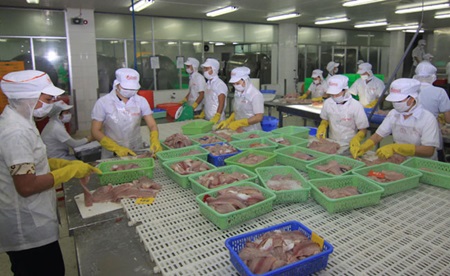 The revised projection is US$300 million lower than the full-year
estimate announced in July this year by VASEP. The association made the revision based on the outbound sales of shrimp in the past months.
VASEP estimated the shrimp export revenue in the final quarter of this year at only US$800 million, down 20-25% compared to a year ago. If this is true, Vietnam can earn shrimp exports of only US$2.9 billion including US$573.9 billion in the first quarter, US$716.2 million in the second quarter and US$840.8 million in the third quarter.
Truong Dinh Hoe, general secretary of VASEP, told the Daily earlier that the association expected shrimp exports would go down by only US$700 million this year against last year. However, the situation has turned sour.
VASEP attributed the fall to declining demand in Vietnam's key export markets and less competitiveness of Vietnamese shrimp than that of rivals. The currencies of India, Indonesia and Ecuador have weakened stronger than the Vietnam dong against the U.S dollar this year.
In addition, shrimp supplies in other ASEAN countries have improved this year as they have put shrimp diseases under control. Therefore, importers have had more choices and this was the reason behind a drop of 27.4% in shrimp exports in the first nine months of this year.
In the period, shrimp shipments to the U.S., Japan, and the European Union plunged 45%, 19.7%, and 18.7% year-on-year respectively.
More seafood export shipments fail to meet food safety requirements
Vietnam's seafood exports found to contain banned antibiotics and unable to meet food safety requirements in importing markets in the first nine months exceeded the volume in all of 2014, according to the National Agro-Forestry-Fisheries Quality Assurance Department (Nafiqad).
The department under the Ministry of Agriculture and Rural Development reported at a meeting on controls on seafood exports in HCMC on October 29 that 165 seafood shipments failed to meet food safety requirements and 78 shipments were detected to contain higher-than-allowed residues of chemicals and antibiotics in the period, up six and 10 shipments compared to last year respectively.
The Nafiqad report said in the January-September period, domestic seafood exporters got food safety warnings for their shipments in the United States, Japan and the European Union (EU), the three leading seafood markets of Vietnam.
In particular, 35 shipments were warned of violating chemical and antibiotic residues by the U.S., six times higher than in 2014. For the Japanese market, 27 shipments were detected mainly for banned and restricted antibiotics while the EU sounded an alarm bell over 27 shipments with 18 (67%) found to have microbial infections.
Nafiqad found out that many farmers had not strictly followed regulations on using permitted chemicals and antibiotics before harvest.
Testing was also to blame as seafood samples were recognized as meeting food safety requirements in Vietnam but failed in tests in foreign markets.
SGT