VietNamNet Bridge - Russian automobile manufacturers are considering setting up factories in Vietnam, which would allow them to enjoy preferential tariffs when exporting cars to the US.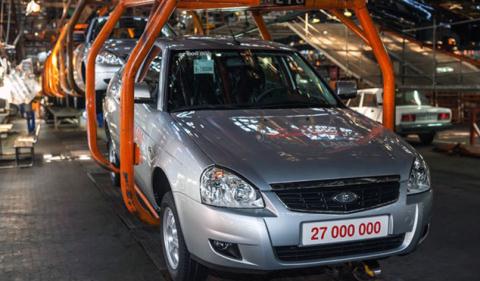 Izvestia, a Russian newspaper, quoted Alexei Likhachev, a Russian government official, as saying that the Trans Pacific Partnership Agreement (TPP) would pave the way for Lada cars and other Russian products to enter the US market.
The official noted that Russian automobile manufacturers can take full advantage of TPP, of which Vietnam is a member, and penetrate the US market from Vietnam. Vietnam and the Eurasian Economic Union (EEU) headed by Russia, have also signed a free trade agreement (FTA).
KAMAZ, the Russian leading truck manufacturer, has a factory in Vietnam. The other two – UAZ and GAZ Group – are considering setting up factories here. It is highly possible that Lada would make automobiles in Vietnam soon as Nissan, its partner, has a factory in the country.
A Vietnamese analyst noted that the cars bearing Russian and former Soviet Union brands, such as Volga, Moskvich, Lada, Zil, GAZ, KAMAZ and UAZ, once rolled on streets and roads in Vietnam dozens of years ago. The possibility of Russian cars coming back to the Vietnamese market was mentioned by Russian Prime Minister Medvedev during his visit to Vietnam in April 2015.
The Prime Minister said the Russian government pays a special attention to the project on assembling cars in Vietnam. This is one of the 17 investment projects on top priority in the cooperation between Vietnam and Russia.
At that moment, sources said some Vietnamese businesses were negotiating with Russian partners on bringing Lada cars to Vietnam.
The death of Lada brand was declared in April 2012. However, just seven months later, Lada had the opportunity to revive the brand when Renault-Nissan won the right to control AvtoVAZ factory and drew up a plan.
A local newspaper quoted sources as saying that Lada Vesta and Lada Granta could be the two first products to penetrate the Vietnamese market.
Vietnam is reported to have joined the EEU Agreement, an economic bloc of Russia, Belarus and Kazakhstan. If so, the import tariffs on many products, including cars, would be cut, which would create favorable conditions for Russian complete-built cars to enter Vietnam.
Russian cars are small and cheap thanks to preferential tariffs; they would be competitive in Vietnam. Meanwhile, investment incentives would encourage Russian manufacturers to assemble cars in Vietnam.
However, Dr. Dinh Trong Thinh from the Finance Academy, thinks that it would not be easy for Russian cars to penetrate the US market through Vietnam because of the high requirements on locally made content ratios stipulated by the TPP Agreement.
Dat Viet