VietNamNet Bridge – The Government plans to increase special consumption tax on luxury passenger cars by up to 150%, according to a proposal recently passed to the National Assembly (NA).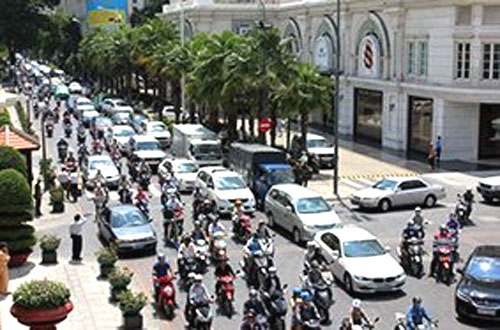 Cars and motorcycles are seen on a road in HCMC. The Government is seeking to increase special consumption tax on passenger cars – Photo: Le Anh
In a document sent to the legislature, the Government supports a special consumption tax rate hike proposed by the Ministry of Industry and Trade. The tax would rise from 60% to 90% for autos with engine capacity of 3,000-4,000 cubic centimeters, from 60% to 110% for cars with engine capacity of 4,000-5,000 cubic centimeters and from 60% to 130% for vehicles with engine capacity of 5,000-6,000 cubic centimeters.
Notably, luxury cars with engine capacities of over 6,000 cubic centimeters would be subjected to a tax rate spike by 2.5 times, from 60% to 150%.
If the NA approves the proposal, the new special consumption tax rates would take effect from July 1 next year.
The Government explained expensive vehicles with big engines consume much fuel and emit more harmful gases into the environment. Their big sizes are not appropriate for road conditions in Vietnam.
The proposal is in line with the Prime Minister's instruction at a meeting in July, aiming to adjust special consumption tax based on groups of autos and impose "high and especially high tax rates" on cars with nine seats or below and having engine capacity of over 3,000 cubic centimeters.
The highest special consumption tax rate of 100% for under-five-seat cars was applied in the 1999-2003 period as stipulated by the law on special consumption tax introduced in 1998.   
Meanwhile, the Government plans to lower special consumption tax rates by 5-25 percentage points on cars of less than 2,000 cubic centimeters.
Experts said higher tax rates would likely discourage purchases of luxury cars though free trade agreements between Vietnam and other partners could send car prices lower.
At present, the import tariff on completely built-up (CBU) autos imported from Japan, the U.S. and Europe into Vietnam is 70%. Though the tax may plunge to 0% in the future, a high special consumption tax would keep prices of cars of over 3,000 cubic centimeters at high levels in the years to come.    
SGT