On October 12 in Ho Chi Minh City the Ministry of Industry and Trade (MoIT) held a conference reviewing trade in the first nine months of the year and set plans and implementation measures for the remainder of the year.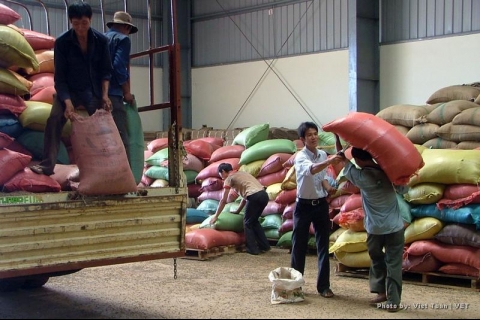 Many participants expressed concern over the increasingly difficult export climate, especially in agriculture, fishery, and forestry products, where both production and turnover are on the decline.
Ms. Tran Thi Thuy Hoa, Head of Administration at the Vietnam Rubber Association (VRA), said that rubber exports had increased 9.5 per cent in quantity but fallen 11.6 per cent in value over the same period last year due to declining international prices. 
Moreover, supply exceeds demand in the local market and international demand is falling, pushing up inventories. 
The rubber sector has tried to expand its markets to cover the decline in price but has been unable to spark value growth. 
Vietnam's rubber is currently exported to 70 markets, Ms. Hoa added, but mostly depends on China.
Mr. Do Ha Nam, Deputy Chairman of the Vietnam Coffee - Cocoa Association (VICOFA), said coffee exports have also experienced a troublesome nine months as export value fell 30 per cent and price 31 per cent against the same period last year. 
The difficulties for coffee stem from other major suppliers such as Brazil selling huge volumes at much lower prices. 
The sector is entering a new season so the problems will remain in 2016, he added. 
Stockpiles are high because farmers prefer not to sell at a low price, which was previously VND40,000 ($1.79) per kg but is now VND36,000 ($1.61).
Apart from competing with other suppliers the coffee sector also receives a range of conflicting information. International coffee traders talk of Brazil having a bumper next crop, with production at 60 million packages. This information may be false, however, and aimed at encouraging lower prices for Vietnamese coffee.   
Meanwhile, Mr. Tran Duc Tung, General Secretary of the Vietnam Pepper Association, said that prior to the harvest season wholesalers use a range of ploys to lower the price and control supply. 
In the first nine months production fell 20 per cent but turnover remained the same year-on-year, with value standing at over $1 billion. 
Figures from MoIT put the sector's crop at 120,000 tons this year with a price 20 per cent higher than in the same period last year. 
Prices have increased every year since 2007 due to farmers being more aware about demand.
Information is extremely important, Mr. Tung said, so the association gathers as much information on supplying countries as possible. 
Eight major countries account for 80 per cent of total global production, of which Vietnam accounts for 30 per cent of production and over 50 per cent of export turnover by value. Enterprises in the sector also tend to support each other in doing business.
Government assistance needed
MoIT noted that the agriculture, fishery, and forestry sector has been facing major competition from countries such as Brazil, India, and Indonesia, which have all devalued their currencies to support exports. 
A representative from the Minh Phu Seafood Corporation said that the price of Vietnamese shrimp is now more expensive than that from other countries in the region. 
For instance, Indonesia has devalued its currency significantly over the years, making their shrimp price cheaper and dominant in the US market. Vietnam's shrimp exports to the US have fallen significantly in both quantity and value. 
nother concern is that Vietnam's fishery products appear to be treated unfairly in certain markets. In Japan, for example, its products undergo strict supervision in regard to vaccine residues but those from Thailand and India are not as strictly supervised. 
Government support is needed, as when other countries experience problems their government send working teams to address the issues, which doesn't happen for Vietnamese enterprises.
Replying to this matter, Deputy Minister of Industry and Trade Tran Tuan Anh said it was not a case of the government lacking responsibility or not caring about enterprises but because it doesn't receive sufficient data. 
There are issues that MoIT cannot handle alone and requires cooperation from other ministries. At the same time, enterprises need to link with government agencies to provide good data.
According to a representative from the An Giang Department of Industry and Trade, FTAs may open up opportunities but the challenges are also greater. When solutions aren't adopted, the challenges exceed the opportunities. 
Moreover, the role of the government needs to be clearer and more practical, because there are issues that enterprises can handle but at times they require support from the government. The sector's association also needs to be more efficient in providing support to enterprises.
Deputy Minister Tuan Anh said that markets are unlikely to see any positive movement in the fourth quarter and in 2016. 
Enterprises therefore need to try harder, taking advantage of the potential that FTAs present in terms of markets. 
The MoIT predicts export turnover in Vietnam for 2015 will reach $165-$166 billion, an increase of about 10 per cent against 2014.
VN Economic Times Online