VPBank has asked shareholders to approve their plan to sell the bank's stakes in several of its subsidiaries to foreign investors, an atypical opportunity for foreigners interested in entering the market.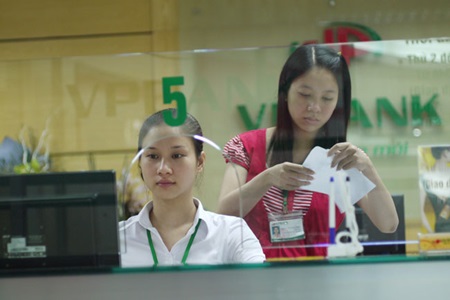 Working with foreign investors is not a completely new venture for VPBank. After the Singapore-based Overseas Chinese Banking Corporation Limited (OCBC) withdrew its capital in 2013, the bank has had no foreign investors.
VPBank's change of mind was announced on their website last week, along with details of the plan.
The bank wants to offload 86.33 million shares or 89 per cent of its complete ownership of VPBank Securities Company (VPBS). The stock package is tentatively worth VND863.3 billion (US$38.37 million).
VPBS was founded by VPBank in 2006 with a charter capital of VND50 billion ($2.22 million). At the end of June, VPBS recorded VND970 billion ($43.1 million) in capital. The deal will transform VPBS from a one-member company into a joint stock company, which they hope to see happen by the first quarter of next year.
VPBank said they would also like to put 49 per cent of VPBank Finance Company (VPBFC) stocks up for grabs by foreign investors, which is valued at VND1 trillion ($44.4 million). The active call for foreign investors is a sign of an increasing openness in business and banking policies.
The new company was founded last year after VBBank acquired Vietnam Coal-Minerals Finance Co. Ltd. from Vinacomin.
VPBank also plans to issue a number of shares, up to 30 per cent of the bank's capital, to an overseas investor in order to raise capital to serve the bank's core businesses.
VPBank said that the moves would help the bank improve its equity capital, restructure and improve its use of shareholding capital. 
VNS