Vietnam meets 40 percent of domestic demand for milk, deputy head of the Livestock Production Department Tong Xuan Chinh told a seminar in Hanoi on October 8.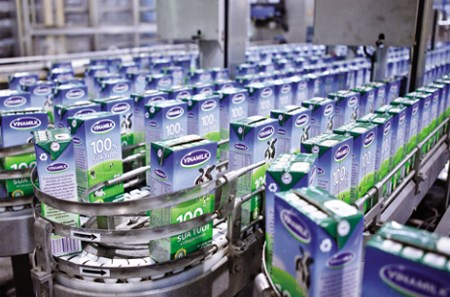 Last year, Vietnam produced more than 549,000 tonnes of milk, up 20.4 percent from 2013.

As of April 1, there were 253,700 heads of dairy cow across the country, a 26.5 percent increase from 2013. However, only 384 farming facilities raised a flock of more than 20, equivalent to 1.95 percent of the total.

The country recorded 5.3 million heads of beef cattle, up 2.7 percent annually, turning out 180,000 tonnes of beef – the same level from last year's corresponding period.

Danish Ambassador to Vietnam Charlotte Laursen lauded Vietnam's agriculture for its positive transformation thanks to the ongoing restructuring scheme, saying that improving the quality of breeding stock is a significant step.

Representatives from Danish firms introduced the latest technologies and shared experience in operating cow breeding models.

The event was co-hosted by the Ministry of Agriculture and Rural Development's Department of Livestock Production and the Danish embassy.
VNA