Many foreign investors are now focusing on the property market in Viet Nam, driven by its long-term investment potential and the country's drastic move in revamping its policies.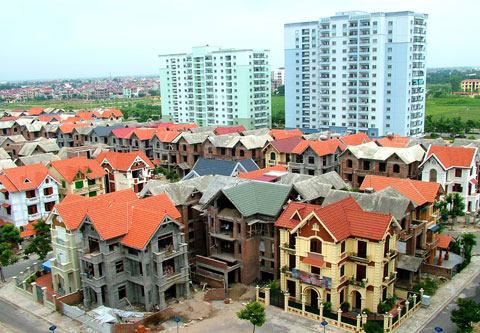 The realty market witnessed strong foreign capital inflows in both direct and indirect investments from the beginning of this year when the market was recovering after years of being in limbo.
Statistics from the Ministry of Planning and Investment showed that foreign investors have poured a total of US$2 billion FDI into the real estate sector in Viet Nam so far this year.
Besides, foreign funds were strengthening investments in property companies and experts forecast that the trend would continue increasing amid the market ongoing recovery.
In late July, Japan's investment fund Creed Group inked a deal worth $200 for a 20 per cent stake in An Gia Investment and advancing preferential loans to the firm to acquire new housing projects, believing in the potential of the real estate market, given the country's young population with anticipated huge housing demand.
Also, Ibeworth Pte. Ltd, a subsidiary of Singaporean giant developer Keppel Land, became a large foreign stakeholder of Nam Long Investment Corporation after spending VND140 billion ($6.42 million) to buy 7.1 million shares or more than 5 per cent state of Nam Long.
London-listed VinaCapital Viet Nam Opportunity Fund Ltd. (VOF) in July disbursed $15 million from a $47 million investment to buy convertible preferred shares of Novaland Group – a major real estate companies in Viet Nam with a number of big property projects in HCM City.
Industry experts said attracting investments from foreign funds would ensure numerous benefits to domestic real estate companies as they had stable and long-term capital.
According to Nguyen Vinh Tran, CEO of Jen Capital, foreign funds were seeking long-term investments in Viet Nam's property market, seeing good opportunities arising from the country's policy reforms.
However, Tran said that foreign funds wanted developers with transparency and prestige.
M&A potential
Merger and acquisitions (M&A) were emerging as a new strategy for foreign investors to penetrate rapidly in the property market of Viet Nam. In exchange, they would bring better financial resources and higher standards.
A representative from HSBC Viet Nam recently said that the foreign capital into the realty market of Viet Nam was expected to thrive with a significant amount coming from foreign investment funds, adding that their investment strategies would be mainly through M&A deals.
An expert forecast that foreign investors would be busy in M&A deals in the 2016-2017 period as many were now waiting for the right opportunities.
Huynh Phuoc Nghia, senior expert of the Global Integration Business Consultants was quoted by a local newspaper, as saying that foreign investors were keeping a close watch on the policy with regard to increasing foreign stakes, resolving bad debts and improvements in the business climate as well as transparent policies – goals which the Government of Viet Nam was striving to fulfil.
Many domestic developers also joined in the M&A game to expand their portfolios, such as Vingroup, Novaland, and FLC, in addition to VID and Hung Thinh, which contributed to restructuring the property market, especially in major cities.
The biggest change for the property sector of Viet Nam during the past decade was the emergence of property giants who were capable of competing with foreign rivals, a property expert said.
According to Le Hoang Chau, president of HCM City Real Estate Association, domestic firms were seen to be more active in seeking M&A opportunities
Chau also pointed out that there were a large number of potential property projects for M&A deals. In HCM City alone, there were more than 1,400 real estate projects, hundreds of which had temporarily halted construction.
Chau said measures to encourage M&A activities were needed as it would help speed up existing stagnant projects, boost liquidity and tackle bad debts in the real estate sector.  VNS