VietNamNet Bridge - Though foreign banks have expanded their networks and presence in Vietnam, they still have a modest market share in Vietnam.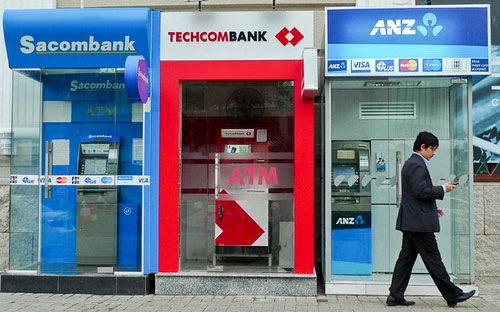 There are 47 foreign bank branches, five wholly foreign owned banks, 53 representative offices and four joint venture banks operating in Vietnam.
Joint venture and 100 percent foreign owned banks have 61 branches, mostly in Hanoi and HCM City. Meanwhile, Vietnamese banks have 2,472 branches throughout the country.
SBV has approved plans to establish 100 percent foreign owned banks submitted by Public Bank Berhad (PBB-Malaysia) and Citibank (the US). 
Market share
By December 31, 2014, foreign invested banks had held 6.92 percent of the domestic market share. The figures were 3 percent and 0.75 percent for 100 percent foreign owned banks and joint venture banks, respectively, if considering their total assets.
Though the charter capital/allocated capital had increased rapidly from 13 percent to 19.1 percent, the banks' total assets and mobilized capital increased slightly from 10.4 percent in 2009 to 10.67 percent in 2014, and from 7.9 percent to 8.19 percent, respectively.
Meanwhile, the banks' market share in lending decreased from 9.2 percent in 2009 to 8.28 percent in 2014. Foreign bank branches saw their lending share drop sharply from 6.3 percent to 4.16 percent.
This was attributed to the 2010 Law on Credit Institutions, under which outstanding loans to clients are calculated based on bank branches' capital, not parent banks' capital, as previously applied.
Regarding business performance, foreign invested banks reported profits for the 2010-2014 period, with the margin between annual cost and income always over VND5 trillion.
By December 31, 2014, the margin had been reported at VND5.380 trillion, a 2.1 percent increase over 2010. The banks' ROA (return on asset) was 0.8, higher than the average index of the entire banking system at 0.63 percent. However, the ROE (return on equity) was 4.8 percent, lower than the 6.87 percent of the system.
Still far from dominant 
The current modest market share held by foreign invested banks proves to be contrary to the predictions that foreign banks, with advantages in technologies and capital, would crush Vietnamese banks and dominate the market.
In its report, SBV has also denied the possibility of foreign banks dominating the market and swallowing Vietnamese markets. 
With restricted operation networks and limited access to Vietnamese clients, foreign invested banks can only hold a small market share. 
Meanwhile, most foreign banks focus on wholesale banking services and operate on capital allocated to them by parent banks.
However, SBV warned that the competition in the domestic market will be stiffer in the future, when more foreign banks will come to Vietnam after free trade agreements take effect.
TBKTVN