VietNamNet Bridge - In many people's thoughts, restructuring banks means reducing the number of banks. How many banks will there be in Vietnam when the bank restructuring process is completed?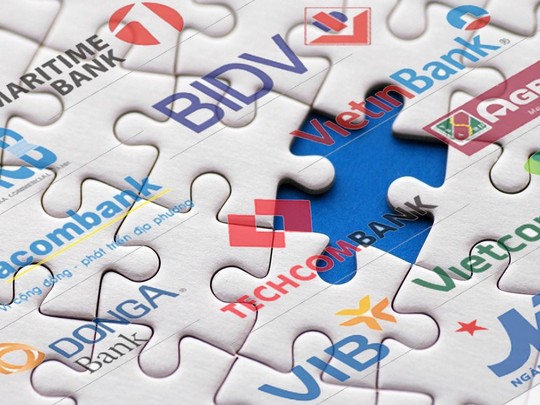 Many commercial banks have merged in the last few years in a bank restructuring programme initiated by the State Bank, which has led to a significant decrease in the number of commercial banks in Vietnam. 
Governor of the State Bank Nguyen Van Binh, in an interview given to the local press, has many times affirmed that the State Bank will 'go to the end with bank restructuring' to reshuffle the banking system and make it healthier.
Sources said that the State Bank will take drastic measures to cut the number of banks further from 40 to 15-17.
Nguyen Tri Hieu, a renowned banking expert, thinks with the population of 90 million and 20-30 percent of population accessing bank services, 15 large-scale commercial banks would be enough for Vietnam.
Keith Pogson, a senior executive of Ernst & Young, in an interview with the local newspaper VnExpress, noted that 15 banks was still 'more than enough' and five banks would be good for Vietnam, provided the banks are all large with regional stature.
He noted that in most successful banking markets in the world, there are only 2-5 large banks in each. Meanwhile, there are too many banks in Vietnam.
In fact, Malaysia once had 45 banks 20 years ago, but it underwent a restructuring process which ended with only 10 banks.
Vietnam needs just a few powerful banks rather than many small banks. If Vietnam does not have banks large enough to arrange capital for infrastructure projects, it would be hard to develop the economy.
Meanwhile, Lawyer Truong Thanh Duc, a banking expert, argues that there is no criterion or standard for economists to refer to when discussing the number of banks Vietnam needs.
According to Duc, what the State Bank needs to do is create a legal framework for banks to operate and develop in the best way for the national economy.
He does not think that Vietnam needs only large banks, because every bank can play a role in the national economy.
"Small cats will catch small mice," Duc commented, adding that the topic for discussion is not how many banks Vietnam should have, but what to do to ensure a healthy environment in which banks can operate.
Do Thien Anh Tuan, lecturer at the Fulbright Economics Teaching Program, agrees that there is no theoretical and practical base to say 15 or 20 banks would be enough for a national economy.
"Let banks come into the world, develop and die in a natural way," Tuan said.
Kim Chi