The Asian Development Bank (ADB) forecast Vietnam's Gross Domestic Product (GDP) to expand by 6.5 percent in 2015 and 6.6 percent in 2016, according to the bank's latest Asian Development Outlook Update report.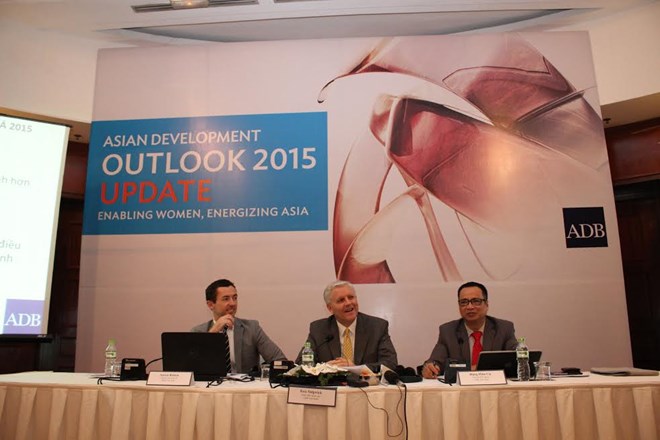 At the press conference to release the 2015 report.
"Vietnam's improving economic growth performance is being driven by a number of factors, particularly stronger output from manufacturing sector and also rising consumer spending and macroeconomic stability, ADB Country Director Eric Sidgwick highlighted at a press conference held in Hanoi on September 22 to release the 2015 report.
The report took note of stellar performance in the manufacturing industry, which rose 9.9 percent in the first six months of the year as foreign enterprises sped up production for exports. The sector's growth is believed to maintain its speed as disbursement of foreign direct investment has reached record levels. 
Construction sector picked up 6.6 percent in the first half of the year, spurred by recovery in the property market and public investment in infrastructure.
After a challenging few years, financial sector also appears to be picking up momentum with credit growth set to exceed target in 2015, the report said, explaining that Government's policy has been aided by the world's lower commodity prices, which have helped curb price growth, increase disposable incomes while reducing business costs.
At the same time, the report noted that Vietnam does face some growing macro-economic challenges such as the globe's unstable economy, slowing economic growth of large trade partners and investors, reducing export earnings from key farm produce and oil, among others.
In addition, widespread drought, which has created losses to coffee and rice production, will exacerbate damages to the agricultural sector and push up food price in 2016.
In a bid to mitigate the issues, Vietnam needs to expedite deeper restructure and financial reforms, improve productivity and enhance the country's international competitive capacity, according to the ADB Country Director.
The ADB, based in Manila, is dedicated to reducing poverty in Asia-Pacific through inclusive economic growth, environmentally sustainable growth, and regional integration. Established in 1966, it now has 67 members with 48 from the region.
In 2014, ADB assistance totaled 22.9 billion USD, including cofinancing of 9.2 billion USD.
VNA