VietNamNet Bridge - Hanoi has lowered the target for foreign direct investment (FDI) into industrial zones (IZs), at a time when foreign investors are continuing to flock to HCM City.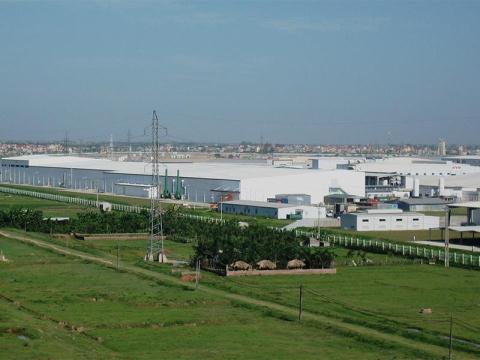 According to the Hanoi Management Board of Industrial Zones and Export Processing Zones, the total investment (both foreign and domestic) in the IZs in Hanoi was $70 million in the first nine months of the year, just equal to 42 percent of the same period last year and 30 percent of the 2015 yearly plan.
Most of the newly registered projects were of a small scale. Twelve FDI projects registered so far have modest total investment capital of $9 million. Most of them were registered by South Korean investors who leased the workshops of Vietnamese enterprises that have stopped operating.
Pham Khac Tuan, head of the management board, admitted that the investment capital in Hanoi was relatively low. 
"This is because of the high infrastructure transfer fees and the land rent in Hanoi IZs, which are 1.5-2 times higher than neighboring localities, " he said.
The difficulties have prompted the management board to lower the targets for attracting FDI to $120 million in 2015.
Prior to that, the Hanoi Planning and Investment Department had stated that attracting investment, especially FDI, was a top priority, which aims to develop Hanoi's economic development.
Hanoi does not strive to attract as many FDI projects as possible but rather only accepts the projects which can bring high added value with high technology content.
However, this has not been an easy task for Hanoi. A survey by the Japan External Trade Organization (JETRO) showed that most investors chose Hanoi because of the good business opportunities they expected in the city. This was the main reason cited by 65 percent of foreign investors.
Investors, however, do not highly appreciate the infrastructure conditions in Hanoi: only 29 percent of investors decided to develop their projects in Hanoi because of this reason. 
Meanwhile, only 19 percent of investors chose Hanoi because they were attracted by the labor force quality, and 39 percent of investors were attracted by the market scale. Particularly, only 3 percent of investors chose Hanoi because of management quality.
Dau Anh Tuan, head of the legal department of the Vietnam Chamber of Commerce and Industry (VCCI), noted that this was one of the reasons that had made it difficult for Hanoi to attract high-tech projects or projects with advanced technology because the projects' investors were very interested in management quality.
While Hanoi has had unsatisfactory FDI performance, HCM City has reported encouraging FDI results. Nearly 300 FDI projects in HCM City have been registered so far this year with total capital of over $2 billion. 
Dat Viet