VietNamNet Bridge - Though the risk from exchange rate fluctuations continues, the Vietnamese stock market remains an attractive investment channel, analysts say.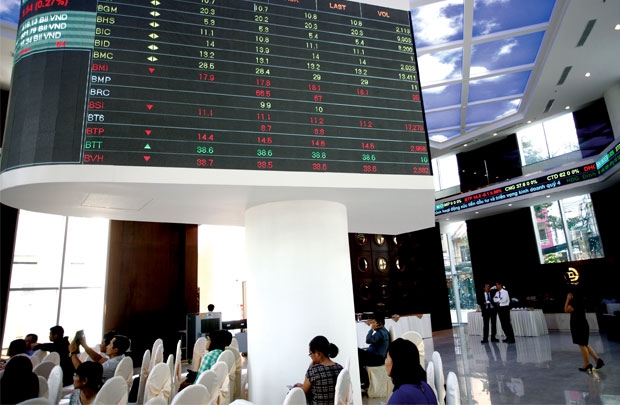 The most important factor which affects the global and Vietnamese markets is the Chinese move of devaluing the yuan, which may trigger a currency war. 
The State Bank of Vietnam has devalued the dong by one percent and widened the forex trading band by two percent. However, the pressure on the dong/dollar exchange rate still exists.
Meanwhile, international analysts warned the US FED is likely to raise the prime interest rate in September, which will help the investment flow to the US. This will not be good for Vietnam.
However, Yun Hang Jin from Korea Investments & Securities believes that Vietnamese stocks remain an attractive investment channel. 
A report of KIS, a securities company, shows that the proportion of shares held by foreign investors by June 2015 had increased slightly compared with the first quarter. 
In the first six months of 2015, Vietnam's GDP growth rate was 6.3 percent, higher than the 5.2 percent of the same period last year.
With Vietnam's firm economic foundation, a payment balance in surplus, and a high GDP growth rate, if the US FED increases the prime interest rate, it will not cause a shock to Vietnam.
In the first six months of 2015, the VN Index of the Vietnamese stock market went down and up in a 'V' shape. 
It is expected not to bounce back in the second half of the year, but instead to zigzag. 
The VN Index is believed to reach its peak, at 650 points, in the remaining months of the year.
Tran Thang Long from BSC Securities noted that the exchange rate adjustment will surely affect the market in the short term, but he does not think investors would flee from the market as people feared.
"Foreign investors will consider the stability of the Vietnam dong against the other currencies in the region and in the world before making investment decisions," he said.
Nguyen The Minh from Ban Viet Securities thinks the dong depreciation would even trigger a new foreign investment wave because foreign investors can buy more Vietnamese stocks with the same amount of money.
According to KIS, it is expected that the government's decision to lift the foreign ownership cap, which took effect on September 1, will help the HCM City Stock Exchange (HOSE) attract VND35-118 trillion worth of long-term capital.
KIS believes that the best shares for investors to buy in the remaining months of the year are in real estate, textiles & garments, and seafood.
Kim Chi