Electricity of Vietnam (EVN), the Vietnam National Coal - Mineral Industries Group (Vinacomin), Vietnam Airlines (VNA), and PetroVietnam (PVN) all told a Ministry of Industry and Trade meeting on September 3 that the adjusted exchange rate will greatly affect their production and business activities, in particular because they hold large foreign currency loans for projects.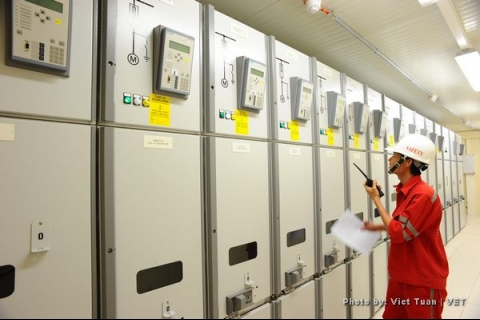 The change to the exchange rate will see Vinacomin lose around VND1.2 trillion ($53.4 million) in its electricity generation activities, according to Deputy General Director Vu Anh Tuan. It will also have a significant impact on its finances and business activities.
PVN, meanwhile, said that the new exchange rate, along with tumbling oil prices (now at $58 a barrel), resulted in its revenue for the first eight months coming in at VND383 trillion ($17.04 billion), or just 53 per cent the annual plan. "In the first eight months PVN met most of its goals except for its financial goals," Deputy General Director Ninh Van Quynh said.
EVN has suffered the most from the exchange rate adjustment as it is implementing key projects. Deputy General Director Ngo Son Hai said that Vinacomin accounts for 10 to 15 per cent of electricity supply but its losses will have a major impact on EVN. Losses at EVN from the adjusted exchange rate may be more than ten times the losses of Vinacomin. EVN is now preparing detailed figures and will report to Ministry of Industry and Trade to identify a solution.
Vinacomin has also suggested the adoption of support plans, with tax exemptions, tax breaks, and other policies.
Other large corporations are also facing difficulties from the exchange rate move.
Petrolimex's foreign currency loans since the beginning of the year to the end of June totaled VND13.52 trillion ($601.5 million) and it will be greatly affected by the exchange rate adjustment.
Vietnam Airlines (VNA), with its specific revenue stream (a VND surplus and a USD deficiency), is anticipating a negative impact from the exchange rate adjustment. The exchange rate stabilization policy in place since 2011 has contributed to cutting its costs. Prior to that, in 2008, 2009 and 2010, adjustments to the exchange rate caused the carrier's costs to increase VND750 billion ($33.37 million), VND486 billion ($21.62 million), and VND551 billion ($24.51 million), respectively. 
Besides the problems facing major corporations, certain items, mostly imported goods such as mobile phones and motor cars, have already increased in price due to the exchange rate adjustment.
VET