VietNamNet Bridge – The United States became Vietnam's largest market in the first eight months of this year, according to the General Statistics Office (GSO).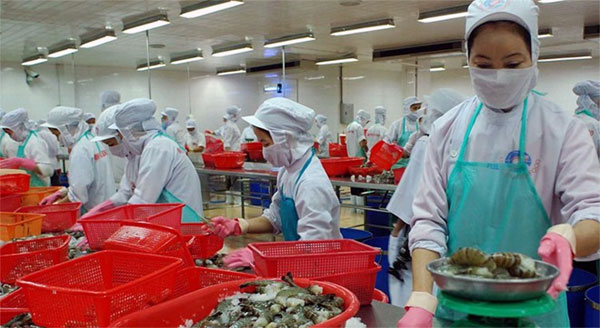 Illustrative image -- File photo
Figures of the GSO under the Ministry of Planning and Investment showed Vietnamese shipments to the U.S. in January-August increased nearly 20% against the year-earlier period to more than US$22 billion. The European Union (EU) followed with more than US$20 billion, up over 12% year-on-year, the Vietnam News Agency reports.
The period saw exports to China rising by 5.6% year-on-year to over US$10 billion and South Korea by more than 16% to over US$5 billion. However, shipments to ASEAN markets fell 3% to US$12 billion and those to Japan edged down 5% to over US$9 billion.
According to the GSO, Vietnam posted goods export revenue of around US$14.5 billion in August, up 2.3% month-on-month and 9.5% compared to the same period a year ago. Of which, foreign direct investment (FDI) enterprises accounted for more than US$10 billion, increasing 1.7%, and domestic firms made up over US$4 billion, up 5.4% year-on-year.
Merchandise exports in the first eight months of this year amounted to more than US$106 billion, a year-on-year 9% increase. The FDI sector contributed nearly US$75 billion (including crude oil), nearly 15% higher than the same period last year, and domestic firms accounted for nearly US$32 billion, down 2.5% year-on-year.
Data of the GSO indicated goods with high outbound sales growth in the period included phones and phone parts worth nearly US$20 billion, up over 31% year-on-year; apparel US$15 billion, up nearly 11%; computers and computer parts US$9.9 billion, up around 52%; and footwear US$8 billion, up 21%.
However, revenues from other export products declined in January-August with seafood dropping nearly 17% year-on-year to US$4 billion, vehicles and vehicle parts slid over 7% to US$3.6 billion, and rubber products dipped more than 10% to US$921 million.
In August, imports stood at US$14.6 billion, down 0.5% month-on-month and 18.7% year-on-year. Despite the fall last month, imports in the first eight months were estimated at US$109.9 billion, up 16.4% versus the year-earlier period.
Of the total figure in January-August, local firms spent US$44.7 billion on imports, increasing 7.7% over the same period last year, and foreign-invested enterprises registered the remainder, up 23.2%.
In spite of foreign-invested firms' trade surplus of US$9.4 billion in the first eight months, Vietnam ran a trade deficit of US$3.6 billion in the period as local enterprises' trade deficit jumped 44% to US$13 billion. Vietnam's trade deficit with China was US$22.3 billion in the period.
However, the overall trade deficit was 3.4% of total exports in the period, below the 5% approved by the National Assembly for this year.
Commodities with high import growth in January-August included parts for the automotive industry with an 80.2% year-on-year rise to US$3.8 billion, and machines and equipment with 33.4% growth to US$18.9 billion.
Earlier this year, the Ministry of Trade forecast Vietnam could face a trade deficit of up to US$6 billion this year after three years of enjoying a trade surplus due to strong growth in import of materials, machines and equipment for production while exports would not experience a robust increase.
SGT