Vietnam and the EU have reached a framework agreement on the creation of a free trade zone under which almost all customs barriers between the partners will be eliminated.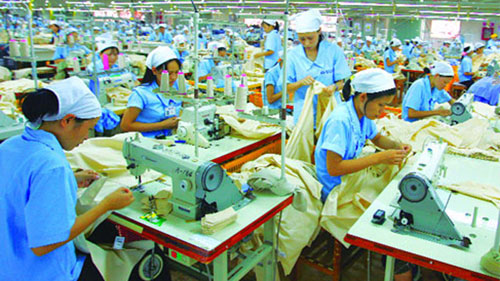 The deal, which follows two and one-half years of talks, will once fully implemented remove nearly all tariffs on goods traded between the two regions over seven to 10 years.
In addition to commercial goods trade, it will eliminate tariffs and barriers to trade in services and government procurement and provide for expanded investment opportunities.
"Vietnam has agreed to eliminate 99% of their import tariffs, with transition periods to a maximum of 10 years. The EU will do the same in seven years," said Ambassador Franz Jessen, head of the EU delegation to Vietnam at a recent conference.
Nguyen Dinh Cung, Central Institute of Economic Management (CIEM) Director in turn said he is satisfied that this finely balanced agreement sets a new, better and modern model for free trade agreements between Vietnam and other partners.
Cung added that the accord establishes a good standard for the trade relationship with the EU and will create broad opportunities for market access in trade and investment.
The deal is an important steppingstone towards Vietnam's ultimate goal of achieving economic prosperity to improve the living standards of its citizens through regional and global integration by signing extensive trade agreements with foreign partners.
The negotiating teams will now settle some remaining technical issues and finalize the legal text, which needs to be approved by national EU governments and the European Parliament. It is likely to enter into force in late 2017 or early 2018.
This sweeping trade accord will require numerous policy changes by the Vietnam government to restructure the nation's economy, open up markets, and improve the business environment over the next two to three years.
More importantly, business leaders can and must play a far more proactive role in transforming competition over this same time frame and get a clear understanding of what it means to be competitive in the European marketplace.
Vietnam can only consider itself competitive if businesses operating in the country are able to compete successfully in the European market while supporting high and rising standards of living for the average Vietnamese worker, Cung said.
Lower Vietnamese salaries and wages do not boost competitiveness nor does producing cheap low quality products at highly discounted prices Cung said, adding that improving labour productivity should be the overriding economic goal.
For his part, Danish Ambassador to Vietnam John Nielsen said the Vietnam government and business community should take the period of time until the agreement comes into force to thoroughly prepare.
Vo Tri Thanh, CIEM vice director echoing Ambassador Nielsen's views said Vietnam is entering an important changeover period that should focus on creating a business environment that supports continual innovation in products, processes, and management.
However, it will not be easy to make the adjustment and for the nation to get familiar with these new methods of doing business, Thanh said.
Pham Ngoc Hung, vice president of the Vietnam Business Association in HCM City, said the State has cautioned domestic businesses to meticulously prepare for grasping opportunities presented by the agreement.
Businesses must focus on making Vietnam a more productive location that will generate high-wages, attract foreign investment, and fuel sustainable growth in demand for domestic goods and services.
He hoped that the Ministry of Industry and Trade and relevant ministries and agencies will publish information to help businesses deeply understand EU regulations for the industries in which they operate.
VOV