VietNamNet Bridge - The Communist Party Central Economic Committee has proposed building a new development strategy for tra fish (catfish) farming and export, though many policies related to the industries already exist.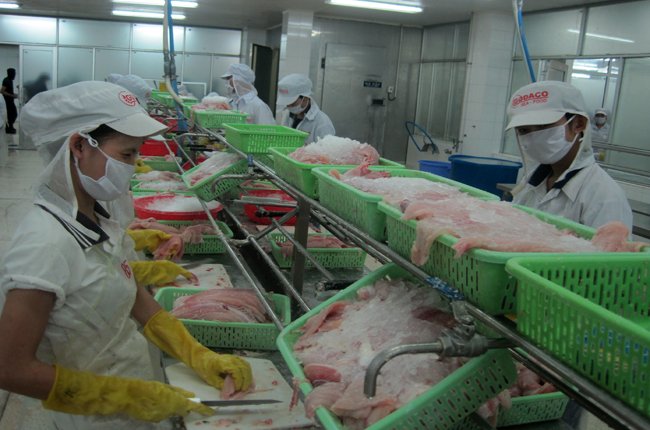 In order to help the catfish industry overcome difficulties and thrive in new conditions in the world market, it is imperative to create a new development strategy focusing on product diversification, according to Le Vinh Tan, deputy head of the Communist Party Central Economic Committee.
Tan said the current downturn of the industry required immediate restructuring.
From 2016, Vietnam will have to integrate more deeply into the world economy, and if Vietnam still goes the same way in developing its catfish industry, it will meet big difficulties. 
Tan warned that in the worst scenario Vietnam catfish would likely disappear in the world market, and the Mekong River Delta's great advantages for catfish farming would no longer exist.
Catfish is one of Vietnam's key export items, and is highly valued. With less than 6,000 hectares of catfish farming area, Vietnam can earn $1.8 billion from catfish exports every year.
However, a local newspaper cited a report of the Vietnam Pangasius Association as reporting that Vietnam could export $750 million worth of catfish in the first six months of the year, a 9.03 percent decrease in comparison with the same period last year.
Tan said it was necessary to learn about the demand and the taste of every export market.
An expert noted that Vietnam has a narrow range of catfish products. Frozen fillet exports account for 85 percent of the total exports, while the other export items are mostly whole fish or fish in pieces.
Tan also warned about the unhealthy competition among catfish exporters.
Enterprises scramble for clients by lowering their export prices but do not cooperate with each other. 
Vo Hung Dung, VN Pangasius' secretary general, said many Mekong River Delta catfish development plans had been drawn up by many agencies and organizations, but the lack of resources to implement the plans remains a great challenge.
In order to avoid duplication, the new catfish development plan should focus on building brands for Vietnam's catfish, as production organization and quality improvement have already been outlined in other plans.
Vietnamese seafood exports to Japan, South Korea, the US and the Europe have been decreasing drastically. 
According to the HCM City Industry and Trade Department, seafood export turnover in the first six months of this year touched US$311 million, down 14.8 percent over the same period last year with seafood exports to Japan dropping by 10.8 percent, to South Korea losing 13.3 percent, to European countries declining 34.7 percent, and to the US falling 35.1 percent.
TBKTSG