VietNamNet Bridge - In 2010-2014, the preferential import tariff helped Dung Quat Oil Refinery escape from a VND27.6 trillion loss, according to PetroVietnam.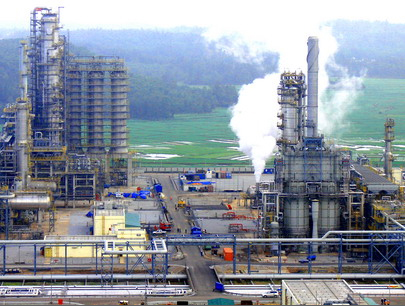 The national oil and gas group, in a report to the government, showed that the oil refinery's business performance heavily depends on the investment incentives offered by the government.
Since 2009, under a special mechanism, Dung Quat can retain the so-called "preferential value" in accordance with the import tariff (3 percent for petrochemical products, 5 percent for LPG and 7 percent for petroleum products). This means that Dung Quat can add 3-7 percent of import tax into the selling prices of its products.
The preferential value that Dung Quat can retain, according to PetroVietnam, is very large. In the first year of operation, Dung Quat could retain VND3.3 trillion. The figure was VND1.836 trillion in 2011, while it soared to VND7 trillion in 2014.
As such, in the years between 2010 and 2014, Dung Quat earned VND26 trillion from the preferential mechanism.
"If the preferential mechanism had not been applied, Dung Quat would have never made profits, but it would have taken losses of VND3.1-7.1 trillion a year and VND27 trillion for the last five years," PetroVietnam said.
Meanwhile, Dung Quat can also enjoy other tax incentives, including the 5-year import tax exemption, the preferential 10-year corporate income tax for 15 years, the 15-year land tax exemption and 50 percent personal income tax reduction.
Tuoi Tre newspaper reported that despite the huge preferences, the oil refinery took a big loss in the first two years of operation. In 2011, it took a loss of roughly VND3 trillion, while in 2012, it incurred a loss of VND2.299 trillion.
In July 2012, in an effort to save Dung Quat, the government released a decision allowing Dung Quat to retain 3-7 percent of import tax even if the import tariff set by the government was lower than the preferential tax rate.
In early 2015, Dung Quat once again shouted for help amid the Ministry of Finance's decision on reducing import tariffs on imports from ASEAN. Dung Quat feared that clients would use imports instead of Dung Quat's products.
The oil refinery warned that if its claims cannot be satisfied, it will have to stop operations.
However, while Dung Quat was saved, PetroVietnam will suffer because PetroVietnam will have to incur the loss instead of Dung Quat.
According to Nguyen Tien Dung, deputy general director of PetroVietnam, ongoing petrochemical projects cannot take advantage of existing favorable conditions in Vietnam. 
Dung Quat, though exploiting oil from White Tiger oil field, still has to import 10-20 percent of crude oil. And so do other refineries.
Dat Viet