VietNamNet Bridge - With improved incomes in recent years, more Vietnamese are drinking foreign canned beer instead of draft beer. But Vietnamese breweries are not making high-end beer.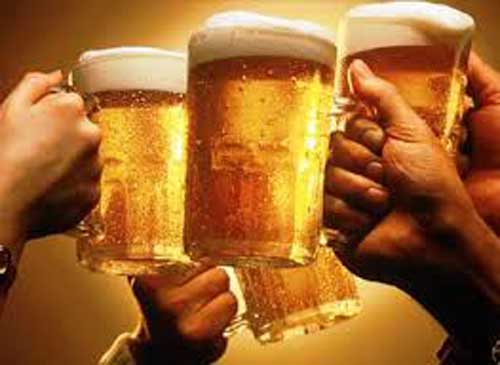 Analysts have noted big changes in beer consumption in Vietnam with a slight decrease in draft beer output, a high increase in bottled beer and sharp growth in canned beer.
A report from the Vietnam Alcohol, Beer and Beverage Association showed that high-end beer products now account for 7 percent of Vietnam's market share. 
The market segment is dominated by foreign breweries such as Heineken, Tiger and Sapporo.
Heineken has a production capacity of 140 million liters a year, and Sapporo has raised its capacity from 40 million to 100 million. 
Meanwhile, AB Inbev has opened a brewery that makes Budweiser beer with the capacity of 100 million liters a year in Binh Duong province.
According to Hirofumi Kishi, general director of Sapporo Vietnam, market surveys all show that the Vietnamese middle class will increase by 2-3 times in the next 10 years, which means that the demand for high-end beer products will increase sharply.
The Ministry of Industry and Trade (MOIT) noted big changes in Vietnamese taste while reporting a slight decrease in draft beer productivity, a high increase in bottled beer and a sharp increase in canned beer output. 
An official of the ministry noted that while foreign breweries had been making heavy investments in production of high-end beer in their long-term plans, Vietnamese manufacturers remain outsiders.
Sabeco and Habeco, the largest Vietnamese players in the market, have been trying to develop high-end products. 
Habeco, for example, has launched Truc Bach brand beer, while Sabeco has Saigon Special, Saigon Large and Saigon Gold.
However, the products are less competitive with foreign products which have been well known worldwide for many years. The branded products are the top choice of well-off Vietnamese.
Vietnamese breweries
According to MOIT, Vietnam, which is a member of many bilateral and multilateral trade agreements, has never committed to cut the import tariff on beer products to zero percent. 
With most favored nation (MFN) status, Vietnam has been allowed to impose an import tariff on beer and alcohol at 50 percent, and the tariff cut will proceed very slowly.
Nevertheless, with the Trans Pacific Partnership (TPP), the tariffs will change. 
As soon as the agreement is inked, the import tariff will immediately fall to zero percent. If so, foreign products of different kinds will be able to enter the Vietnamese market.
The official from MOIT noted that many big beer manufacturers are among TPP's members, including the US, Japan, Canada, Mexico and Chile.
Tran Thuy