VietNamNet Bridge – As Vietnam will integrate into the ASEAN Economic Community (AEC) in 2015, not only large corporations but also foreign banks plan to strengthen their presence or expand their scale in Vietnam.
Vietnam welcomes big banks from ASEAN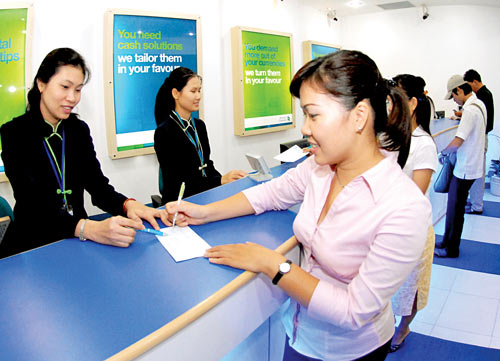 In early March this year, Kasikorn - one of the leading banks of Thailand - established representative offices in Hanoi and HCM City. The bank also said it would expand operations in Vietnam by opening more offices and branches after being licenced by the State Bank of Vietnam (SBV).
Also in March, the Public Bank Berhad (PBB) of Malaysia was approved by SBV in principle for acquiring the capital of the Bank for Investment and Development of Vietnam (BIDV) in VID Public Bank and conducting procedures for turning this bank into a wholly foreign-owned bank in Vietnam. This will be the sixth wholly foreign-owned bank in Vietnam after HSBC, ANZ, Standard Chartered Bank, Shinhan Vietnam and Hong Leong Bank.
Earlier, DBS Bank of Singapore and Maybank of Malaysia opened more branches in Vietnam.
Most recently, the Ministry of Planning and Investment petitioned the Prime Minister to assign the SBV to licence UOB Bank (Singapore) as a 100% foreign owned bank in Vietnam. According to the Ministry, Singapore is the 3rd largest foreign investor in Vietnam with 1,405 projects and more than $33 billion of capital.
Banks worry about integration
With the growing demand for capital from Vietnamese enterprises as well as foreign-invested firms in Vietnam, many banks in ASEAN member countries want to develop business in Vietnam. Previously, most foreign banks in Vietnam mainly came from the countries and territories investing in Vietnam such as Japan, South Korea, China and Taiwan.
Recently, more banks of ASEAN countries like Singapore, Malaysia, and Thailand have appeared in vn. This shows that credit institutions in Southeast Asia have been preparing for holding opportunities from AEC.
According to statistics, Vietnam has over 50 representative offices, 50 branches of foreign banks, six wholly foreign-owned banks and four joint venture banks. Financial experts say that the entry of foreign banks means that there will be a fierce competition between foreign and domestic banks.
They analyze that in addition to serving foreign investors, foreign banks are also likely to attract domestic customers based on brand reputation, modern technology and services and ample financial resources.
Experts say that economic integration with the establishment of AEC brings about benefits such as creating more business opportunities and diversification of products and banking services, access to new technologies.
However, the deeper integration in the banking sector also creates risks for local banks. Therefore, to prepare for AEC integration, domestic banks have performed restructuring plans and consolidated  governance systems towards international standards.
As planned, by the end of 2015, AEC will be established. One of the goals of this community is to implement the open banking system, ie, the member states will have to remove all limits on foreign ownership in domestic banks.
In related news, HDBank signed a strategic cooperation agreement with Hana Bank of Korea, right after the signing of the free trade agreement between Vietnam and South Korea (VKFTA). This is predicted to be the beginning of the stronger flow of investment into Vietnam of financial Korean conglomerates and banks, in preparation for the effective VKFTA in early 2016.
Hai Nam