Farmers in the Southern region harvest 4.3 million tons of fruits every year on more than 414,000 hectare of orchard garden; accordingly the region is considered the country's major fruit exporter.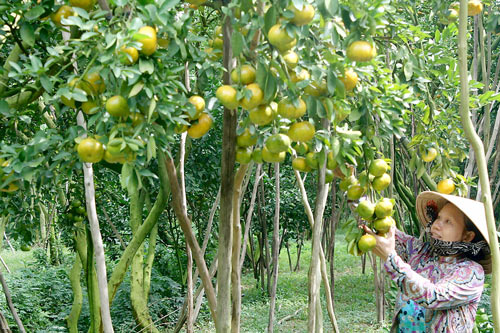 Farmers in the Mekong delta are harvesting early fruits at high cost; hence they are so excited. Farmer Le Van Ngoan in An Phu Tan commune in the Mekong delta province of Tra Vinh's Cau Ke District said that early harvested mangosteen from his two acres of lands of mangosteen was sold at the price of VND115,000 per kilogram, making him get high profit.
Huynh Minh Tri who is an agricultural official in An Phu Tan commune said that the commune had more than 90 hectares of land for growing mangosteen and early fruits were usually sold at high prices.
Therefore, farmers earn higher profit from fruits than from growing rice, he said.
In Tien Giang and Ben Tre Province, farmers are harvesting durians. Lu van Thien, deputy chief of Cai Mon Cooperative in Cho Lach District in Ben Tre said that traders suggested buying durian at VND25,000- 35,000 per kilogram, bringing high profit to farmers.
Meantime, tangerine fetches have been sold at VND25,000-30,000 per kilogram, bringing  high profit to farmers. A farmer who has 1 hectare of tangerine will earn VND500 million (US$22,987) – the highest revenue compared to other fruits. Consequently, farmers in Lai Vung District have widened area for planting the fruit to over 1,150 hectares.
Experts from The Ministry of Agriculture and Rural Development say that fruits in the Southern region are various, so vast areas in the region are used for growing mangoes, bananas, mangoes, rambutan, durian and tangerine.
Consumption market is very thriving and quantity for export and revenue both increased steadily. Some kinds of fruits including rambutan, dragon fruits and longan can enter difficult markets in the world because farmers grow these fruits under standards such as  VietGAP and Global GAP, satisfying the food safety requirements.
However, Vietnamese fruits have face many difficulties. The area of growing fruits under the standards of VietGAP and Global GAP is small. Enterprises and traders are not interested in investing in orchard and consumption; therefore, the prices of fruit go up and down unpredictably, causing a lot of concerns among farmers.
Moreover, Fruit processing and preservation is weak and no company focuses on building up brand name for Vietnamese fruits.
The Ministry has encouraged farmers  to grow unseasonal fruits properly to avoid price reduction. Last time, some unseasonal fruits have brought high profits for farmers; for instance, unseasonal durians fetch VND45,000- 60,000 per kilogram, giving farmers a profit of VND396 million (US$18,174) per hectare, an increase of 1.8 times compared to seasonal durians.
Similarly, prices of seasonal rambutan fluctuate from VND5,000-13,000 per kilogram but unseasonal fruit is up to VND18,000-35,000 a kilogram.
The Departments of Agriculture and Rural Development in Mekong delta provinces have petitioned the government to support farmers on capital; for instance, providing farmers low interest loan as growing orchards takes long time to get profit and it needs big investment.
SGGP