VietNamNet Bridge – Minister of Planning and Investment Bui Quang Vinh acknowledged that large numbers of public investment projects have fallen behind schedule and have even faced cost overruns.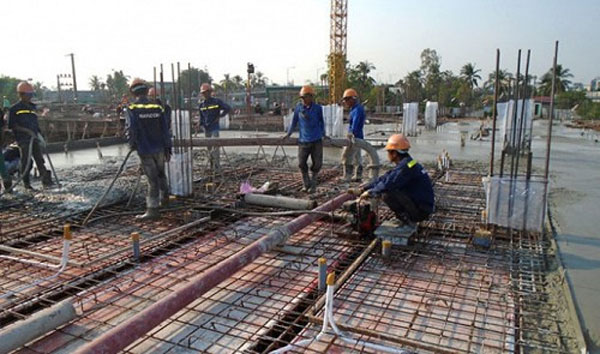 Illustrative image -- File photo
In a report on the overall assessment of investments last year submitted to the Prime Minister, Vinh pointed out slow implementation as one of the main reasons behind cost overruns. This affected investment efficiency and placed negative impact on the economy.
Vinh said adjusting projects, especially investment, has made it hard to balance the capital and affected the implementation process.
Vinh said the investors and the authorities making investment decisions should be held responsible for delays and adjustments of public investment projects.
Of the projects with State capital accounting for 30% or more last year, 39,173 projects are being implemented with 17,638 projects getting off the ground recently (45.03%) and 14,419 projects have been finished and put into use (36.81%).
The completed components of the projects were valued at VND579.501 trillion, equivalent to 95.29% of the target, according to statistics of 120 agencies and units involved in the projects
In addition, there were 2,869 foot-dragging projects last year, or 7.32% of the number of projects implemented in the year. Meanwhile, the respective rates of 2013, 2012 and 2011 were 9.59%, 11.77% and 11.55%.
The projects were slow due to site clearance (1,063 projects), late capital allocations (659 projects), limited capability of investors, management boards and contractors (248 projects), and administrative procedures (304 projects).
Localities with the high ratios of slow projects are Haiphong (53.22%), Binh Dinh Province (40.41%), Binh Phuoc Province (26.03%), Ben Tre Province (18.31%) and Bac Lieu Province (33.33%).
As many as 3,717 projects were adjusted in terms of investment capital, implementation schedules, investment scales and locations last year, equivalent to 9.49% of the total number of projects compared to 11.26% in 2013, 16.09% in 2012 and 14.18% in 2011.
Besides, competent agencies found investment procedure violations at 115 projects last year, quality violations at ten projects and capital wastefulness at 923. Some 302 projects were suspended.
SGT