VietNamNet Bridge - More than 150 instant food products made of rice are available at supermarkets. The industry has been witnessing a steady high growth rate of 20-40 percent per annum in recent years.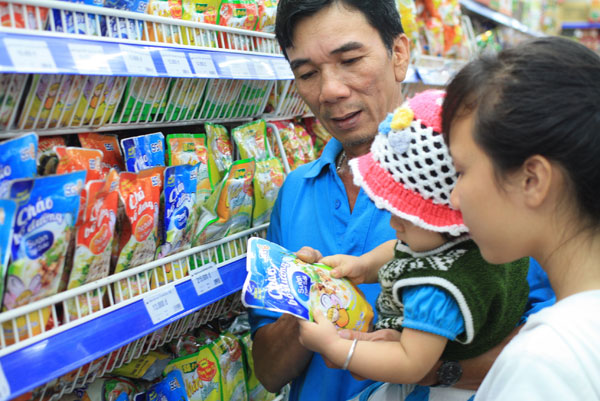 According to market survey firms, the total demand of the market is 5.1 billion packs a year, while domestic production can satisfy only 10 percent of demand. The market has a lot of potential for investors. 
Having ready-made food for lunches has become a habit of Vietnamese with a busy life. This has prompted manufacturers to put out a wide range of instant food products at different price levels, from several thousands to tens of thousands of dong. 
At Co-op Mart and Big C, the two largest supermarket chains in Vietnam, rice instant food products with many different brands fill up the shelves at consumer goods stalls. 
Vina Acecook alone has 2-3 hu tieu products (noodles with seasoned and sauté beef, served with other ingredients), a very common kind of food in the south, on the shelves. There are also products from Vifon, Bich Chi and Hang Nga, priced at between VND4,000 and VND14,000 per pack.
The same number of pho (noodle soup with chicken or beef) products with different flavors and price levels is reported available at supermarkets. 
According to Nguyen Thanh Nhan, deputy general director of Saigon Co-op, more than 60 manufacturers now provide over 150 products made of rice to the retail chain. The number of suppliers is 15 percent higher than the same period last year, while the number of products has increased by 20 percent. 
Instant food products made of cereals accounted for 10 percent of the total consumed food three years ago, but the figure has increased to 50 percent.
Nhan noted that the high profits in the industry is the reason that investors decide to pour more and more money into instant food production lines, thus making the competition in the market stiffer.
Le Van Hung, marketing director of Vina Acecook, well known for instant noodle products, said the company plans to develop rice  products as well. The products now bring 10 percent of the company's total revenue.
Vifon has also decided to develop processed food made of rice instead of focusing on making noodle products to take full advantage of its raw materials.
An analyst noted that the competition among manufacturers centers on manufacturing technology, because technology determines product quality.
Lan Anh