VietNamNet Bridge – More Japanese enterprises are eager to pour money into agricultural, foodstuffs, construction, sea transport, tourism, and restaurant projects in Vietnam.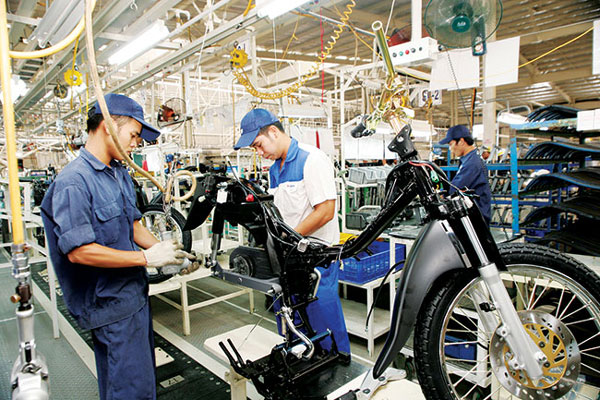 Vietnam could do more to make its investment climate more business friendly to Japanese investors
Last week, Minister of Planning and Investment Bui Quang Vinh met with the chairmen and CEOs of 10 Japanese firms who are currently conducting market research here, prior to deciding on heavy investment projects in the country.
The firms include Miki (rice and farm produce), Midoria (sake), Midoriya (design and construction), Seiwa (foods), Nozaki (electronic products and machinery), Sanyo (sea transport), Puratia (training of Vietnamese nurses and caregivers in Japan), IDOM (Tantan-men restaurant chain), FUJI (travel company), and Sengoku Yoshito (law consultancy).
These firms want to base their investments in the Dong Van Industrial Park in the northern province of Ha Nam. This month also saw Japan's Showa Denko Group work with the Ha Nam authorities to develop a hi-tech project to produce safe vegetables at the park, with the first harvest due at the end of the year.
Also, this month an investor delegation from Japan's Yamaguchi prefecture visited the southern province of Binh Duong. The group is keen to invest in the machinery, agriculture, construction and restaurant sectors there. Binh Duong currently has 232 Japanese enterprises, with the total investment capital of over $4.8 billion.
Atsusuke Kawada, chief representative of JETRO's Hanoi Office and vice chairman of the Japan Business Association in Vietnam, said JETRO was implementing a programme to help over 1,600 Japanese small- and medium-sized enterprises invest in various developing nations, including Vietnam.
"These enterprises are looking at Vietnam as a prioritised investment destination. The number of Japanese enterprises will increase in Vietnam, both in the manufacturing and non-manufacturing industries," he said.
Of the existing Japanese investors in Vietnam, 66.1 per cent said they would "expand investment" here and continue considering Vietnam an important investment location. Meanwhile, some 84.4 per cent expected their revenue to increase in Vietnam.
Vinh said Vietnam's government and localities would create the best conditions possible to support these projects.
"Under Vietnam's new Law on Investment, which will take effect in July, foreign investors in Vietnam will see major breakthroughs in Vietnam's investment climate," he stressed.
However, head of the visiting delegation to Vietnam last week, Sengoku Yoshito – former Minister of Japan's National Policy and former President of the Democratic Party of Japan – told Vinh that in order to lure more Japanese investment, Vietnam needed to make its investment climate more business friendly.
VIR