VietNamNet Bridge – Vietnam and Russia look set to complete procedures for firms of the two nations to settle payments in their domestic currencies this year after Vietnamese State President Truong Tan Sang and Russian President Vladimir Putin agreed on the payment method.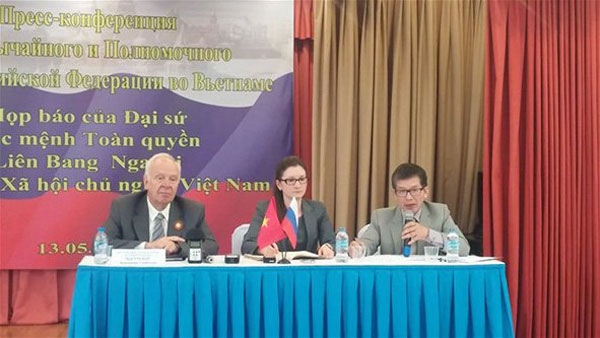 Russian Ambassador to Vietnam Konstantin Vasilievich Vnukov (L) at a media conference in Hanoi on May 13 
Both leaders have assigned financial organizations and banks to adopt specific solutions and mechanisms in the coming time.
Russian Ambassador to Vietnam Konstantin Vasilievich Vnukov said on Tuesday, May 13, "We only settle domestic currency payments with our important partners. Aside from Vietnam, Russia has partnered with other BRICS countries – Brazil, India, China and South Africa."
Vnukov also briefed the media on results of the Vietnamese leader's visit to Russia, saying the two heads of state had agreed to deepen the comprehensive strategic partnership between the two nations.
They wanted the two countries to strengthen cooperation in traditional fields such as energy, oil and gas and military technology, as well as potential sectors such as telecom, manufacturing and cooperative production.
Notably, the signing of a free trade agreement between Vietnam and the Eurasia Economic Union this month will elevate economic, trade and investment ties to a new height. Preparations for the signing have been completed, he said.
There were two important events during President Sang's trip. First, HCMC and Moscow inked a cooperation agreement in the fields of engineering, food, processing, light industry, trade, agriculture, finance, banking, health and education.
To realize the agreement, both localities will establish a working group and Governor of Moscow province Andrei Vorobiov will visit HCMC in the coming time. Over 100 Vietnamese enterprises have expressed interest in economic cooperation with the outlying area of Moscow, the ambassador said.
Second, President Sang kicked off a new production complex of Rusvietpetro in Russia's Nhenhets autonomous region, where it is currently developing 13 fields. The new complex allows a significant rise in the use of associated gas (from 46% to 93%), improves the environment and reduces fume residues.
Rusvietpetro Joint Venture has celebrated pumping its 10 millionth ton of oil in the area after seven years of operation.
Meanwhile, Vietsovpetro in Vietnam has turned out 215 million tons of oil since 1981, grossing revenue over US$72 billion. The joint venture expects to pump five million tons this year.
Vnukov said that the Vietnam-Russia relationship has advanced to a higher level. Vietnam is the only Asia-Pacific country with which Russia has established a comprehensive strategic partnership.
SGT