VietNamNet Bridge – Phu Quoc Island, located off the coast of the Mekong Delta province of Kien Giang, is experiencing booming investment into tourism and hospitality, opening unparalleled opportunities for investors.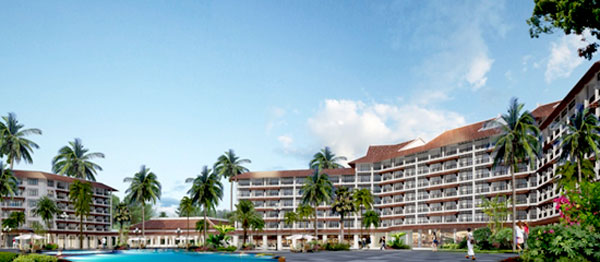 Illustrative image -- File photo
Construction of the high-end 400-room Novotel Phu Quoc Resort is in full swing, with the project set for opening by the end of this year.
Just five months after its groundbreaking ceremony, the shell of 44 villas has been completed, while construction of the five-story hotel has reached the fourth floor, with the building expected  to top out by the end of this month.
With 700 hectares of land in the country's north and south, private developer CEO Group is still focusing its business on Phu Quoc. CEO is ramping up efforts to develop the $200 million Sonasea Villas & Resorts complex which covers 80ha.
The Novotel Phu Quoc Resort is part of this integrated complex. CEO Group chairman Doan Van Binh said he believed that Phu Quoc tourism would soon step into a growth acceleration period and the group was ideally placed to exploit this opportunity.
However, CEO Group is a relative late-comer compared to Vingroup, Vietnam's largest property developer. Late last year, Vingroup inaugurated the first phase of its Vinpearl Resort Phu Quoc complex which features 606 hotel rooms, 33 luxury villas, the entertainment area Vinpearl Land, and a classy 27-hole golf course.
Contractors are also in top gear to launch the additional Vinpearl Premium hotel and 231 villas this August. An international-standard 150-bed Vinmec hospital is also projected to open in mid-2015.
Vingroup has also got the go-ahead to pump more than VND1.6 trillion ($74.7 million) into building Phu Quoc passenger seaport under a build-transfer form, and it also envisages turning 80ha land, part of former Duong Dong airport, into a shopping centre to supposedly boost the island's charm.
Vingroup's interest in Phu Quoc has inspired other players, both domestic and international, to flock to the once unspoilt island.
Besides newly-opened hotels owned by local firms such as Salinda, Eden, The Shells, and Famiana, global leading hotel operators have also made forays into Phu Quoc.
Premier brands Ritz-Carlton and JW Marriott are set to open two complexes in the south of the island next year. Meanwhile, InterContinental – which has been operating three eponymous hotel complexes in Vietnam – is joining hands with local partner BIM Group to build a mixed development with nearly 500 hotel rooms, apartments, and villas in the district.
Earlier this year, the prime minister also gave an in-principle approval for a casino on the island which is expected to attract even more high-class investors.
Firms like CEO Group, Vingroup, and BIM Group have bet on Phu Quoc ventures because "It is now an ideal time to invest in Phu Quoc as the island is set to become a 'new Bali' or 'Phuket' in the future," as Binh claimed.
Located just an hour away from Ho Chi Minh City and just over one and half hours from Hanoi, Phu Quoc has been dubbed a resort paradise comparable to Bali or Phuket.
The island boasts stunning beaches and is a potential candidate to grow into one of the first special administrative-economic zones in the country.
Thanks to improved infrastructure, major investors have flocked to Phu Quoc in recent years. To date, 202 investment projects have received investment approval, 143 of which have investment certificates worth $6.5 billion in total committed capital. The bottlenecks once hindering the island's development – namely access to the island and its infrastructure system – are now being removed.
Phu Quoc international airport opened in late 2012 after undergoing a comprehensive overhaul. It is now accessible to big aircraft such as the 160-180 seat Airbus 320s. Previously, only 70-90 planes could land on Phu Quoc due to its small airport.
The island's transport infrastructure has also seen noticeable improvements with a huge funding injection from the state budget. Power prices have also plummeted after the island was connected the national grid last year.
VIR