VietNamNet Bridge - The Dung Quat Oil Refinery has shouted for help, saying it will not be able to sell its products and might have to shut down because of the new import tax policy in 2015. Will it be rescued?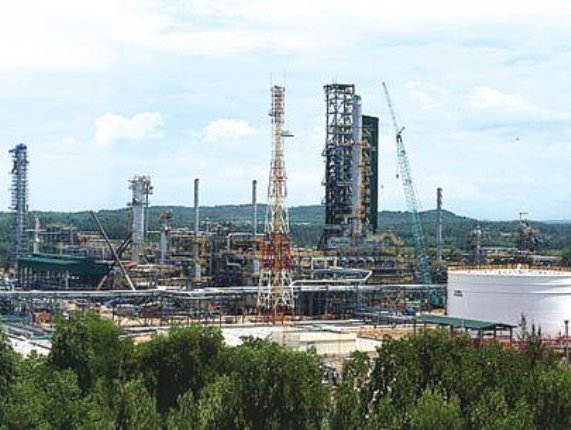 Dung Quat makes petroleum products for both domestic and export markets. Under current law, Dung Quat has to pay tax to the State for the petrol it sells in the domestic market. The tax rate depends on import tariffs, i.e., it has to pay higher tax if the import tariff stays high, and it will pay less if the State cuts the import tariff.
The tax rate imposed on Dung Quat's sales in the domestic market is a common rate applied to imports from all markets, except ASEAN.
In early 2015, the Ministry of Finance decided to cut the petrol preferential import tariff from 35 percent to 20 percent. 
The import tariff on diesel, which was 30 percent, has been cut to 5 percent in 2015 and will be cut further to zero percent in 2016-2018. 
All the tax cuts will be applied to imports only from ASEAN countries.
As such, a paradox exists that Dung Quat's petroleum products, made and consumed domestically, now have to bear an import tariff higher than the tariff imposed on imports from Singapore.
Thanh Nien newspaper quoted Vu Manh Tung, deputy CEO of BSR, the company that runs Dung Quat, as saying that the new tax policy would force Dung Quat to shut down, because its products would not sell. 
Tung said BSR's partners would refuse to buy products from Dung Quat because the products will be more expensive than those from other ASEAN countries.
MOF may have been aware of the unreasonable tax policy. The ministry on April 14 decided that the tariff on imports from ASEAN countries will be the same as that in other markets.
However, this is still not the end of the story. Under a specific financial policy applied to Dung Quat, its tax on petroleum to be sold in the domestic market is 7 percent lower than the current import tax rate. 
As such, in 2015, the tax cut would lead to Dung Quat's taxes to the state budget decreasing by VND14.305 trillion. A decrease of VND16.251 trillion would be seen each year in 2016-2018.
If the import tariff decreases to zero percent, PetroVietnam, the national oil and gas group, will have to provide compensation for Dung Quat.
The group has estimated that if the oil price stays at $60 per barrel, it will have to pay VND1.065 trillion in 2015 in compensation for Dung Quat.
TBKTSG