VietNamNet Bridge - Russia is interested in aviation, auto and other industrial sectors in Vietnam and targets to increase bilateral trade to $10 billion in 2020, the Minister of Industry and Trade Denis Manturov said in an interview with a local newspaper during the visit of Russian Prime Minister Dmitry Medvedev to Vietnam last week.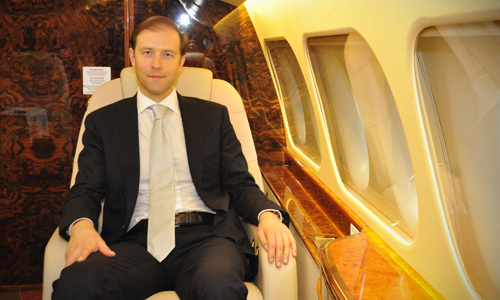 Russian Minister of Industry and Trade Denis Manturov was interviewed about the special designed Superjet 100.
- Speaking during the visit to Vietnam, Prime Minister Medvedev said that it was time for the two countries to find new ways of economic cooperation. Could you speak more about this?
- Two-way trade turnover between Vietnam and Russia currently stands at $3.7 billion. The two governments aim to push this figure to $10 billion by 2020. Thus, the "new" features here are the measures to fill the gap of more than $6 billion. We come to Vietnam with a lot of ideas to realize that goal.
The first is the auto industry, because this is an area we are interested in. The Vietnamese may have known brands such as UAZ and Kamaz. Russia does not just want to sell cars but wants to organize production, assembly, warranty and maintenance in Vietnam. In contrast, the light industry of Russia lacks experience in several sectors. We are looking forward to Vietnamese businesses to come to Russia to invest, especially in the fields of textiles, footwear and others.
In addition, we also want to say more about the field of aircraft manufacturing, which we have a lot of experience in. On this trip, we also intentionally flew to Vietnam on the Sukhoi Superjet 100 aircraft to introduce it to Vietnamese partners. This type of aircraft is suitable for Southeast Asia, with short, medium and often crowded journeys. The manufacturer UAC also has many clients in this region.
- Having encountered some problems after being launched in 2012, what could you say about the safety and effectiveness of the Superjet 100?
- I can confirm that this is a good aircraft, which was developed to carry passengers on the often crowded routes. Even in Southeast Asia, UAC has sold two units (for businessmen) and the other three to Indonesia. However, the biggest customers of use are Latin American countries which have bought 30 units, of which they have received 18 units.
It must be added that the Superjet 100 is an international project, with the participation of Russia, Italy, France, the United States. Russia contributes about 40-45% of the product value, and in some designs for businessmen, we can raise the rate to a maximum of about 60%.
- In Vietnam, Air Mekong used aircraft of under 100 seats and failed. Do you have any special preference in terms of price or guarantee for efficient exploitation of these aircraft?
- Price is the story of negotiations, depending on each circumstance, and each specific contract. As for the segment, the type of aircraft used by Air Mekong is manufactured by Bombardier. They produce 40-72 seat aircraft, while Superjet 100 with 85-95 seats. I think they are two different segments, so it is difficult to compare the efficiency. However, according to market research, in the coming years, Southeast Asia will need about 250 aircraft like the Superjet 100. We desire and are confident that we can attain about 30% market share.
- As for training, what do you think when the majority of the crew in Vietnam are trained to operate Boeing, Airbus and others?
- It is the same in Russia, too. We also have to retrain Russian pilots to operate the Superjet, so we are very experienced in this matter. Currently, the training facilities are very good.
I would like to add that with the aviation industry, we not only want to sell aircraft to Vietnam or other customers, but also many accompanying services: training, maintenance etc. We are also planning to build a Superjet 100 maintenance center in Vietnam for the whole of Southeast Asia.
- Why does Russia choose Vietnam to build the center, while the first customers came from Thailand, Indonesia?
- As I said Russia wants to have 30% market share of the same aircraft line with Superjet 100 in Southeast Asia in the coming years and also needs a maintenance center located here. In the region there are many options to set the center, but Vietnam has an advantage because the two countries have experience in building helicopter maintenance centers together.
- In addition to aviation, you talked about inviting Vietnamese businesses to invest in light industry in Russia. Can you explain it?
- First of all, we have introduced three locations where you can invest in - the Far East, Primorsky region (eastern Russia) and Moscow province. These places are good for transportation, infrastructure, and social conditions. The fields that Russia wants to have investment in are textiles and footwear and others, with part of the labor from Vietnam. These facilities can be set up in industrial parks, which have preferential tax policies and incentives.
- What about the proposal of direct payments by the rouble and Vietnam dong. What do you think about the feasibility as the needs of enterprises are still mainly for US dollar or the euro?
- I think it is a duty set by the two states. Therefore, the two sides should have a policy to guide enterprises, and then the value of the domestic currency will be strengthened. We have applied that payment mechanism to China, India and more recently Thailand and Indonesia, and found no significant obstruction.
VNE