VietNamNet Bridge - Indian pharmaceutical firms are eyeing the Vietnamese market as local companies cannot satisfy demand.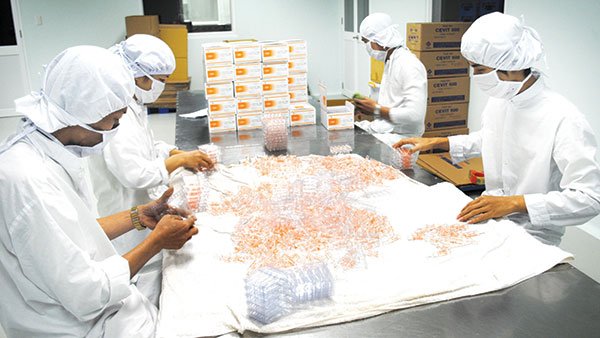 In March, a pharmacy trade fair was held in HCM City attended by 50 indian pharmacy firms that make materials, half-finished products, finished products, pharmaceutical biochemistry products and medical equipment. 
In Vietnam, India has more pharmaceutical firms and medicine registered in Vietnam than any other country. In 2014, 4,269 Indian drug products were registered, equal to 26 percent of total registered items.
Sources have said that more Indian pharmaceutical manufacturing factories will be set up in Vietnam. 
Under a free trade agreement signed with ASEAN, of which Vietnam is a member with India, preferential tax rates of 0-9 percent are being applied to Indian imports. This has increased the imports of Indian medicine to Vietnam.
However, India is also leading in terms of low-quality imports to Vietnam. 
A report from the Ministry of Health showed that from January 1, 2011 to August 23, 2013, the ministry's drug administration agency discovered low-quality products imported from 37 companies in 10 countries. These included 25 Indian firms.
The eighth inspection tour on August 23, 2013 to March 5, 2014 found that 63 companies, including 44 Indian firms, had substandard products.

Can Vietnam compete with India?
State management agencies noted that Vietnam still does not have a pharmaceutical chemistry industry.
As pharmaceutical chemistry research requires huge investment, local companies would rather import materials to make medicine domestically than spend money on research. 
Vietnam's pharmacy industry still cannot compete with India's.
Huynh Trung Chanh, deputy chair of Domesco, said India is one of the world's major medicine supply sources and the second largest supplier in Vietnam. 
Though some Vietnamese leading firms now can make products competitive with generic drugs from other countries, their production costs remain high. 
Therefore, it is necessary to use new technologies to reduce the production costs.
Traphaco, one of the Vietnamese largest pharmacy firms, has been teaming up with a Japanese partner to expand its production capacity, develop new products and enlarge its distribution network.
Hau Giang Pharmacy, which has decided to focus on developing products made of natural materials, has set up a new eight-hectare factory in Tan Phu Thanh Industrial Zone in Can Tho City.
Under the current laws, foreign companies do not have the right to directly distribute pharmaceutical products in Vietnam. However, foreign investors still can see special investment opportunities in the Vietnamese market.
Analysts have said that foreign pharmaceutical companies have been continuously increasing their share ownership ratios in domestic companies over the last few years.
TBKTSG