VietNamNet Bridge - The rapid increase in the number of Vietnamese dollar billionaires has caused concern rather than joy.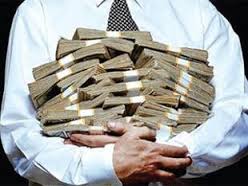 Knight Frank predicted that Vietnam would witness the fastest growth rate -- 159 percent -- in the world in the number of "ultra-high net worth individuals" in the next 10 years, meaning  that Vietnam would have 300 super rich by that time. It now has 116.
A World Bank report released in mid-2014 showed that the number of super-rich in Vietnam has tripled over the past decade.
While many Vietnamese feel excited about the prediction, economists do not. Nguyen Tri Hieu, a renowned finance expert, noted that the rapid increase in the number of super-rich cannot be used as a tool to measure Vietnam's development level.
Hieu noted that the sharp increase in the number of super-rich in a developing country like Vietnam, where the income per capita is just $1,900 per annum, shows a big problem – the big gap between the rich and the poor.
"Vietnam encourages people to get rich in legal ways, but it does not encourage a big gap between the rich and poor," he said, adding that it would be a worrying problem that some individuals have their asset value skyrocket while the income of the majority Vietnamese remains modest.
Hieu said the Vietnamese billionaires listed as 'super rich" are mostly traders, not industrial manufacturers or the owners of technology groups, and that Vietnam is still an agriculture-based economy.
The WB report also pointed out that Vietnamese citizens are concerned about income inequality in the country. Approximately 80 percent of people in urban areas listed income inequality as a top concern, while the figure was 50 percent in rural areas.
An analyst, who asked to be anonymous, noted that most Vietnamese super-rich are real estate developers, different from developed countries where many super-rich are from the technology sector.
"In developing countries where mismanagement exists, thus leading to the lack of transparency and fairness, people have golden opportunities to get rich through embezzlement and cheating in commerce."
Meanwhile, Nguyen Van Nam, former head of the Trade Research Institute, noted that only statistics exist about the value of the super-rich's assets, while there is no information about how the super-rich have become rich.
Nguyen Van Duc, deputy general director of Dat Lanh Real Estate Company, said it was not a surprise that Vietnam is the country with the fastest growing number of super-rich.
"Vietnamese have a saying "fishing in troubled water'. It is understandable that the number of super-rich increases more rapidly in a country with low transparency and high risks than a country with high transparency," he said. 
Kim Chi