VietNamNet Bridge - The ceiling on foreign ownership in companies may climb to 100 percent instead of 60 percent as initially planned, sources have said. If so, this would represent a breakthrough in policymakers' thinking.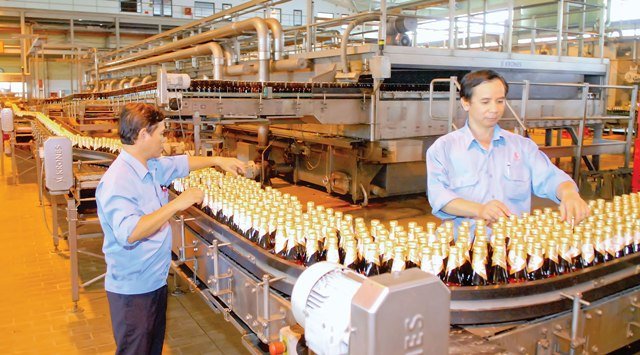 "We will give clear answers to questions about the ceiling foreign-ownership ratio adjustment in several months," Thoi Bao Kinh Te Sai Gon quoted a Ministry of Finance official as saying. 
Under Decision No 55, foreign investors can hold up to 49 percent of shares in one Vietnamese listed company. 
The 2014 Enterprise and Investment Laws stipulate that a company is considered a "foreign invested enterprise" when foreign investors hold at least 51 percent of shares of public companies.
The official from the Ministry of Finance revealed that the ceiling on foreign ownership will not be as low as 60 percent as initially suggested.
"The allowed foreign ownership ratio may be as high as 100 percent in many business fields, except banking, insurance, telecommunication, pharmacy and national defence," he said.
Earlier this year, a representative of the Ministry of Finance said at a workshop that the State was determined to disinvest from some business fields.
He said that the State would withdraw 100 percent of its capital from profitable businesses, such as Vinamilk (dairy producer) and Sabeco (brewery), and foreign investors will have the right to buy the enterprises.
More recently, the steering committee on Sabeco equitization suggested that the State should reduce state capital in the enterprise to 36 percent through share auctions.  
If the proposal is approved, foreign investors will have the opportunity to hold more than 51 percent of Sabeco's shares if they bid competitive prices.
According to the State Securities Commission (SSC), there would be a different ceiling on foreign ownership in three groups of businesses.
The first includes businesses in conditional business fields, such as banking and telecommunications. The foreign ownership rate will be determined by laws in these fields.
The second group includes big equitized state-owned enterprises. The ceiling ratios will be determined by appropriate agencies which approve equitization plans.
The third group, comprising public companies, including listed companies, will be covered by the government's decisions, i.e., the foreign ownership ratio could be up to 100 percent.
As for securities companies, the draft document allows foreign investors to buy shares and contribute capital to Vietnamese securities companies with no limitation on the percentage of ownership.
TBKTSG