VietNamNet Bridge - Businesses in the seafood processing sector are clearly divided into two sides: those who are acquiring businesses to strengthen their foothold and those who are selling their firms to both domestic and foreign partners.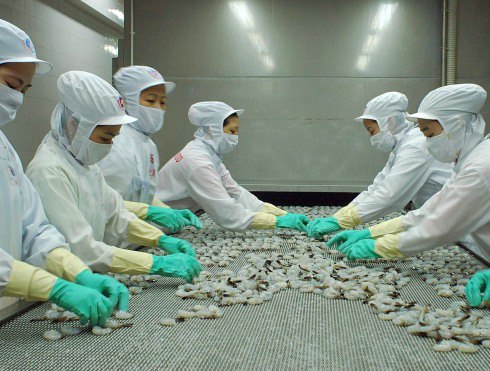 The director of a securities trading firm in Ho Chi Minh City said that since mid 2014, seafood processing businesses have had many positive signals as their profits began sharply increasing in 2014.
Thus, the industry has seen a clear distinction where the big companies are increasingly stretching their arms while the small businesses are getting smaller in both profit and market share. The number of merger and acquisition (M&A) deals are increasing.
Most recently, Hung Vuong Joint Stock Company has approved the purchase of an additional 3.19 million shares (VND10,000/share) in Tac Van Seafood Processing Import Export JSC, to raise its total shares from 885,970 to 4.08 million, representing 51% of the charter capital of Tac Van. Tac Van currently has a charter capital of approximately VND35.44 billion. The company will issue more shares to increase its capital to VND80 billion ($4 million).
Hung Vuong will also offer to purchase 2.5 million shares of Sao Ta Food JSC (Fimex) for VND24,000 per share. If it is successful, Hung Vuong will increase its stake in Fimex from 7.5 million to 10 million shares, holding 50% of the shares of Fimex.
Previously, Hung Vuong announced the completion of purchasing 4 million shares of Viet Thang Animal Feed JSC, thereby raising the percentage of ownership in this firm to 75.96%.
Recently, to increase it ownership in Viet Thang to 90.28%, Hung Vuong registered to buy an additional 3.9 million shares through the negotiation form, expected to be completed in April.
If these affairs are completed, Hung Vuong will increase the percentage of ownership in many companies.
While Hung Vuong Seafood Company is trying to acquire small businesses, Minh Phu Seafood is seeking foreign partners.
Minh Phu's Chairman Le Van Quang said the company is trying to sell up to 39% of its shares to a foreign partner, which has strategic advantage in production and exports. A dozen investors from America, Japan and Canada have expressed their wish to become Minh Phu's strategic partner.
This year Minh Phu is expected to increase profit by 55% to VND1,416 billion ($66 million), of which export turnover to be at least $1 billion. On March 31, Minh Phu officially delisted on the HCM City Stock Exchange.
At the same time, small seafood businesses are being acquired.
An Giang Seafood Import Export JSC said that the State Capital Investment Corporation (SCIC), its major state shareholder which owns 8.24% of capital, will sell its entire shares in this unit in mid-April, at the price of VND40,100 per share.
In the other case, Viet An Seafood JSC and its consulting company are designing the restructuring plan for 2015 - 2019 to gradually overcome the difficulties, to be more attractive in the eyes of not only domestic but also foreign partners.
The Vietnam Association of Seafood Exporters and Producers (VASEP) said that the process of merger and acquisition of seafood processing companies will be strong this year. The weak businesses will find it difficult to survive in tough competition, so this is an opportunity for ones with financial strength.
Tu Nguyen