Local manufacturing enterprises are struggling to liquidate their output as inventories of various kinds of industrial products are piling up quickly, while consumption and investment has dipped due to tough economic conditions.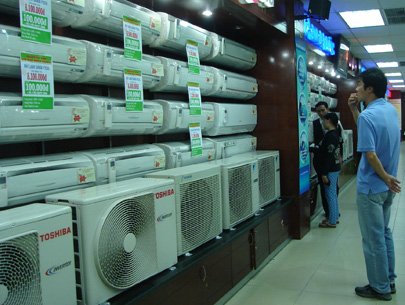 A report released by the Ministry of Industry and Trade on Monday showed that stockpiles have soared recently. Meanwhile, enterprises are facing problems with making production plans due to volatile exchange rates and input material prices inside and outside Vietnam.
Huge steel, cement stockpiles
Nguyen Tien Nghi, vice chairman of the Vietnam Steel Association, said the nation's building steel and steel ingot stockpiles had hit 400,000 and 520,000 tons as of August 31, nearly doubling average monthly reserves of steel makers.
"Most enterprises have scaled down production due to low consumption with some even cutting 50% production capability. Time for a recovery is almost unpredictable as the market depends on the Government's management policies," Nghi told the Daily.
Similarly, nearly 80 cement plants nationwide are seeking markets for their output as the total stockpile hit over two million tons as of the end of last month.
Although enterprises have managed to export nearly three million tons of cement this year to liquidate their inventory, they still have difficulty with poor consumption and shrinking revenues, said Nguyen Van Thien, chairman of the Vietnam Cement Association.
The sector this year targeted to sell 55 million tons of cement but then revised the figure down to around 50 million tons, an 8% year-on-year decline. Many cement firms are sharply reducing production, Thien added.
Electronic product and cable sales down
According to the Ministry of Industry and Trade, revenue of electronic products shrunk sharply in the January-August period with air conditioners dropping 20.8% and refrigerators falling 14.5%. As a result, their stockpile indices soared to 33.3% and 63% compared to the same period last year respectively.
A logistics manager of a Japanese electronics company told the Daily that its sales revenue plunged 70-80% over the past few months while imported goods like air conditioners and LCD (liquid crystal display) TV sets piled up in its warehouse.
Both importers and retailers flocked to stock air conditioners after seeing strong market demand last year. Therefore, they are suffering large stockpiles due to cooler weather and economic difficulties, he said.
"That is why retailers have launched many promotion programs," the manager added.
Meanwhile, a report of the General Statistics Office showed that electric cable and wire stockpiles jumped 38.8% in August, which was also blamed on poor consumption in the market.
Huynh Kiet Chi, managing director of Kim Cuong Electric Wires and Cable Company, said its revenue from the domestic market had declined since early this year due to low demand.
The enterprise has had few big contracts in recent months. "Our products are designed for high-rise buildings, condo projects, workshops in industrial parks and export processing zones. However, the real estate market is still frozen while foreign investment has dropped back this year," Chi said.
The company currently carries out just-in-time production, suspending operation and temporarily laying off workers if there are no orders. As a result, many workers have left the company, Chi added.
Cadi-sun Group, another cable firm, has also suffered strong fluctuations of input material prices. Last month, the enterprise imported bronze at US$9,700-9,800 per ton while its price has dropped to US$9,000 recently, forcing it to adjust sale prices and incur losses.
"We have calculated to reduce stocking plans to cope with the difficulties," said Do Dinh Khoan, director of Cadi-sun's HCMC branch.
SGT