Viet Nam had set a target of building 2,500km of expressways by 2020, Minister of Transport Dinh La Thang told a meeting in the capital on Wednesday.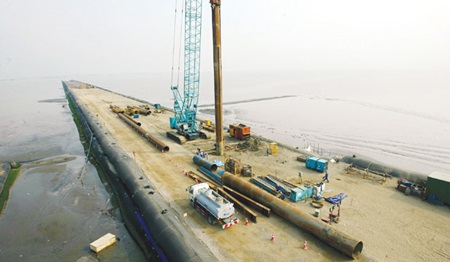 Addressing the meeting, Thang emphasised the need to source private sector investment for infrastructure development, including expressways.
"We cannot sit back and rely on the State budget or Government bonds to finance infrastructure development," Thang said.
To do this, the minister asked for investment from various sectors, including foreign investors.
"There are two scenarios for building our expressways by 2020. If GDP is low, we could reach 2,500km, but if it is high, we could stretch to 2,689km," Thang said.
Total investment demand for the upper limit was projected at VND 394.6 trillion ($ 18.8 billion), of which VND 213.3 trillion ($10.1 billion) will come from investors and the remainder would come from the State budget. This projection did not include funding for projects that were scheduled for completion in 2015.
Investing in expressways aims to promote socio-economic development and contribute to national security and defence. This was stated in the Resolution of the 11th National Party Congress, the National Development Platform for 2011-2020 and Resolution 13/NQ of the Party Central Committee on infrastructure development.
"Investment in expressways should not have a negative impact on public debt; if it does, the impact must minimal," Minister Thang said.
He also asked contractors and designers to apply the most advanced technology and materials to build the roads.
Referring to capital investment, Thang said, priority would be given to Vietnamese investors in order to push socio-economic development and encourage Vietnamese enterprises to develop.
He also called for the rapid transfer of expressways which were already in operation or were under construction.
Building bridges
The same day, a meeting to review the implementation of a project to build bridges to ensure transport safety for people living in mountainous region, particularly ethnic minorities, was also held.
Speaking at the meeting, Nguyen Van Huyen, General Director of the Directorate for Roads of Viet Nam said that 180 out of 186 suspension bridges had already been designed. The designs for the remaining six bridges would be ready by the end of this month.
"At present 46 construction units are involved in building 138 bridges," Huyen said.
According to the schedule, all 186 suspension bridges will be open to traffic by June 30, 2015. 
VNS