Vietnam was listed among top ten countries having trade surplus with the US last year with a total value of more than US$24.9 billion.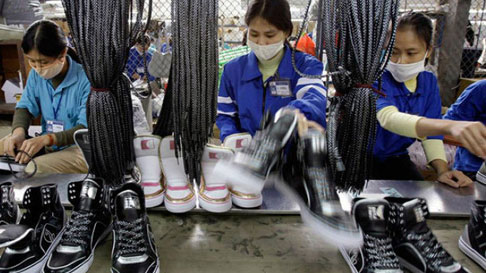 According to latest statistics released by the American Chamber of Commerce (AmCham), two-way trade turnover between Vietnam and the US increased from US$29.6 billion in 2013 to US$36.3 billion in 2014.
In 2014, Vietnam ranked the 15th among world's largest suppliers to the US while the US remained the 44th biggest exporters to Vietnam with an export value of US$5.7 billion.
Vietnam mainly exports garment, footwear, wood, and bags to the US while imports machines, materials for the garment and footwear industries, cotton, plastics, and animal food from the country.
AmCham said Vietnam has become an increasingly important trade partner of the US in Southeast Asia with a bilateral trade value estimated at US$57 billion in 2020.
Truong Gia Binh, President of the Vietnam Software Association (Vinasa) said the US is a potential market for Vietnamese software exporters.
Binh who is also chairman of the Vietnamese technology company FPT Corporation revealed that FPT earned nearly US$40 million in software exports from the market in 2014, a year-on-year rise of 39%. The figure is expected to hit US$100 million by 2016.
If the Trans-Pacific Partnership (TPP) is signed this year trade barriers with the US will reduce significantly, helping to promote trade relations between the two countries.
However, to be more attractive to US investors, Vietnam should improve its business environment by simplifying administrative procedures, improving the quality of labour forces and devising specific strategies for each industry, Binh said.
VOV