VietNamNet Bridge – The expected increase of foreign direct investment (FDI) in 2015 will help heat up the office rental market, analysts have said.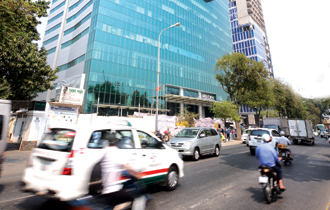 Though the real estate market remained stagnant in 2014, office building developers obtained satisfactory results in the context of limited supply.
Only 10 percent of A- and B-grade offices were reported unoccupied by the third quarter of 2014. The leasing fees remained stable, despite the economic recession which forced businesses to fasten their belts.
Le Meridien, an office project in District 1 in HCM City, is nearly fully occupied, though construction has not finished.
The full occupancy at Le Meridien, with total area of 9,900 square meters, is evidence showing that demand is still high for projects with large areas.
Two B-class office buildings – MB Sunny Tower in district 1 and Lottery Tower in district 5 – were put into lease, which helped raise the leased B-grade office area in the fourth quarter of 2014 by 326.6 percent compared with the third quarter.
As for A-grade offices, since no new office building was put into use in 2014, the occupancy rate of the high-end offices has improved significantly.
A report from CBRE Vietnam, a real estate service provider, showed that in the fourth quarter of 2014, the vacancy rate of A-grade offices decreased by 0.5 percent, while the rate of B-grade offices increased by 0.3 percent compared with the third quarter.
However, the vacancy rate of both A- and B-grade offices decreased by 1.8 percent  compared with the same period of the year before.
Meanwhile, the leasing fee was stable in 2014, with rent decreasing slightly by 0.1 percent and 0.8 percent for A- and B-grade offices, respectively.
Greg Ohan from CBRE Vietnam noted that five groups of clients have the highest demand for leasing office:  banking/finance, insurance, pharmacy, manufacturing and information technology.
He said the office-for-lease market has many advantageous factors – the government's success in curbing inflation, reducing interest rates and cutting government expenses. Vietnam also successfully maintained a high GDP growth rate at 5.6 percent in 2014.
Experts from CBRE Vietnam, Savills Vietnam and Cushman & Wakefield all share the same view that the HCM City office-for-lease will bounce back in the next three years.
They pointed out that increased FDI flow to Vietnam would lead to higher demand for offices.
The Ministry of Planning and Investment has reported that FDI capital registered in January 2015 reached $663.44 million, a sharp increase of 67.1 percent over the same period last year.
NCDT