VietNamNet Bridge – Vietnam has been doing well in mobilizing capital through bond issuance, but has not been using the capital in the most effective way.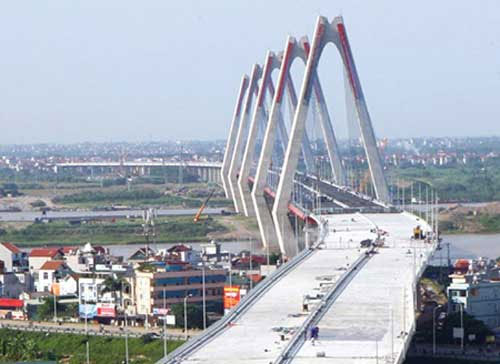 The State Treasury had a "bountiful bond crop" in 2014 when fulfilling nearly all the tasks set up earlier in the year.
It raised VND234 trillion through bond issuances, an increase of 30 percent over the year before. The long-term bonds issued accounted for nearly 50 percent of the total issued bonds.
In 2014, Vietnam, for the first time since 2010, made a return to the international bond market when it successfully issued $1 billion worth of government bonds. The event, financial experts said, showed the high credit rating international investors give to Vietnam.
The Ministry of Finance (MOF) plans to issue VND441 trillion worth of bonds this year and another $1 billion worth of rollover international bonds.
Vietnam is also considering issuing government bonds in yen in Japan amid a suggestion by JBIC (Japan Bank for International Cooperation).
Japanese commercial banks now have more money as the Japanese central bank has launched stimulus packages recently.
Vietnamese economists believe that the suggestion deserves to be considered, because the country would have the opportunity to mobilize capital at lower costs than the dollar, which has been appreciating.
The government had successfully sold US$1 billion sovereign bonds after Fitch Ratings upgraded Viet Nam's long-term foreign and local currency issuer default ratings (IDRs) to 'BB-' from 'B+' and revised the outlook to 'stable' from 'positive' in November last year.
However, they say, while Vietnam has been doing well in mobilizing capital from the public, it still does not know how to use capital in the most effective way, even though tightening control over public investments is always a top priority for ministries.
MOF said it would not only focus on seeking new capital sources this year, but would also pursue policies to tighten the allocation of structural capital.
The capital will not be spread over to all projects, but will be preferentially allocated to projects which can be completed in 2015, and will not be addressed to projects which are not urgent or necessary.
Analysts noted that in general Vietnam has been maintaining an over-expenditure policy for recent years, which is a negative aspect of fiscal policy implementation.
HSBC recently released a report, noting that Vietnam is still facing many difficulties in the short-  and medium-term, despite brighter growth prospects.
The bank warned that the allocation of capital to infrastructure projects is worrying, because the state budget revenue in 2015 may fall due to lower revenues from oil, which has dropped in price.
HSBC believes that the state budget deficit in 2015 would be roughly 6 percent of GDP, higher than the 5 percent set by the government.
Thanh Lich