VietNamNet Bridge – Five wholly owned Vietnamese automobile companies have united in an "alliance", joining forces to improve the local automobile industry to meet the challenges of the AFTA (ASEAN Free Trade Agreement) period.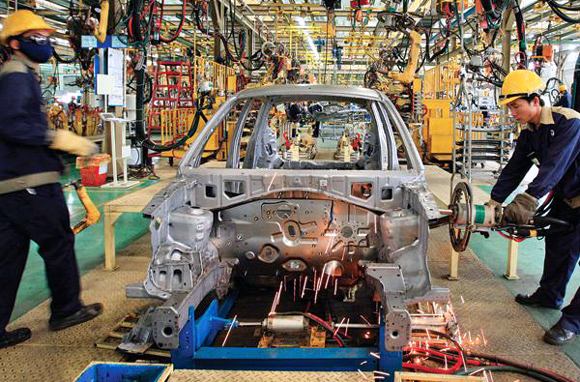 The companies are Vietnam Engine and Agricultural Machinery Corporation (VEAM), Vietnam Motors Industry Corporation JSC (Vinamotor), Saigon Transportation Mechanical Corporation (SAMCO), Truong Hai Automobile, Vinaxuki (Xuan Kien Automobile), Z179 Factory and MDC, a center for mechanical engineering development.
They are Vietnam's key auto production and assembling enterprises, and all are members of the Vietnam Association of Mechanical Industry (VAMI).
The members have set up an Automobile Committee under VAMI which will be in charge of supporting member corporations with the aim of developing the automobile and supporting industries.
Dao Phan Long, deputy chair of VAMI, said the companies would focus on developing trucks, passenger vehicles, specialized vehicles and sedans.
Long said about 50 percent of car parts could be made domestically.
Bui Ngoc Huyen, general director of Vinaxuki, said Vietnamese manufacturers want to prove that Vietnamese can also make automobiles.
"The other enterprises may use bodywork made by Vinaxuki, while Vinaxuki will buy car parts made by other enterprises," said Huyen, describing the cooperation model.
However, while showing a strong determination to develop the automobile industry instead of relying on foreign automobile manufacturers, the Vietnamese manufacturers said success would depend heavily on state policies.
Huyen said Vietnamese enterprises are weak in capital, technology and branding, and need support from the state.
Analysts have been cautious about making statements about the establishment of the automobile committee under VAMI and the "Vietnamese automobile dream".
However, they warn that the biggest challenge the "big five" would meet is convincing government agencies about the feasibility of their plan.
Huyen admitted that his dream of making Vietnamese automobiles remains half-finished.
"Our VG model still cannot be marketed because of high taxes and fees which make it competitive with imports," Huyen said.
Vinaxuki has asked the government to exempt 50 percent of luxury tax for manufacturers who make sedans with a localization ratio of 50 percent.
The proposal was supported by the Ministry of Industry and Trade, but rejected by the Ministry of Finance.
The two ministries have recently disagreed about many policies related to the automobile industry.
The biggest problem, as Kien said, is that state management agencies still do not have confidence in Vietnamese enterprises, and therefore, do not support enterprises' plans.
Vietnam, as member of AFTA, will apply a zero tariff policy to all automobiles imported from ASEAN countries by 2018.
Vietnam reportedly spent $1.1 billion on auto imports during the first 10 months of the year, nearly doubling 2013's figure and registering the highest level over the last five years.
Tran Thuy