VietNamNet Bridge - World-renowned shipbuilder Damen from the Netherlands has expressed interest in buying at least a 70% stake of the Cam River Shipbuilding Company, the most valuable subsidiary of the Shipbuilding Industry Corporation (SBIC).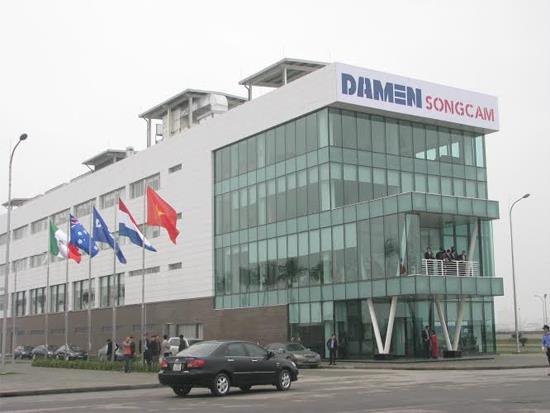 According to sources from SBIC, the corporation has asked the Prime Minister and the Ministry of Transport's opinion on the maximum stake that it can sell to Damen.
Earlier, this group was approved as a strategic partner of SBIC in its equitization plan and the restructuring scheme of the Cam River Shipyard in August.
However, in this plan, SBIC is expected to sell 49% of its shares to the foreign partner but the Dutch investor wanted to purchase at least 70%.
Under the current regulations, the ownership ratio of foreign investors in the local stock market is limited to 49% only.
In its petition to the Prime Minister and the Ministry of Transport, SBIC proposed to sell 70% stake in the Cam River Shipyard to Damen as exceptions.
A SBIC official said the corporation was waiting for a reply from the Government Office. He added that he did not know the value of the 70% stake in the Cam River Shipyard because the affair was under negotiation.
"If this policy is adopted, the two sides are expected to conclude negotiations of the value in mid-January 2015," he said.
Damen Group is the world's largest shipbuilder. It started cooperation with Vinashin - the forerunner of SBIC more than 10 years ago, and is now an important partner of many SBIC subsidiaries, including the Damen - Cam River Shipyard.
This Eur60 million plant was inaugurated early this year, with 70% of capital from Damen.
Damen also wanted to acquire a majority stake in Ha Long Shipbuilding Company after the latter launches an IPO (initial public offering) in early 2015.
S. Tung