VietNamNet Bridge – International institutions and media have recently reported on the positive outlook of Vietnam's national economy and brighter prospects in 2015.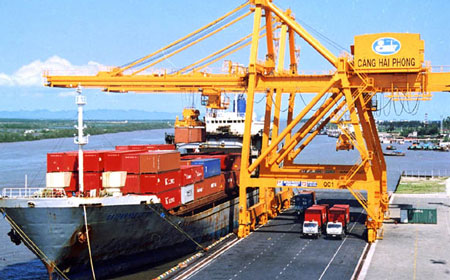 ANZ Bank released a report on Vietnamese consumer confidence in November, showing that the index had soared to 140.9 points, much higher than the average level of 133 so far this year.
The improvement was attributed to the public's increased optimism about the national economy in the next 12 months and five years.
ANZ's Asia Pacific Chief Economist Glenn Maguire said what most influenced the Vietnamese confidence was the lower consumer price index (CPI) increase and the fuel price decrease. This has helped increase people's spending.
In early November, Fitch Ratings raised the long-term foreign and local currency issuer default ratings (IDRs) to 'BB-' from 'B+', three notches below the investment level, while its outlook was revised downwards to 'stable' from 'positive'.
Explaining its decision, the credit rating said the upgrade reflected improved macroeconomic stability and stronger external balances. While the GDP grew satisfactorily at 5.6 percent on average, the inflation rate decreased from 6.6 percent in 2013.  
In late July 2014, Moody's also raised the sovereign credit rating from B2 to B1.
In their statements about the credit upgrading, both Moody's and Fitch Ratings mentioned Vietnam's macroeconomic improvement, stable economic growth and better financial balances.
In the future, if Vietnam's banking system stabilizes, the bad debt will be controlled and the public debt will be within the safety line. Vietnam will also have higher ratings.
Though noting existing problems, including slow equitization process and a low inflation rate which shows low demand, international institutions have painted a positive outlook for Vietnam, saying the current situation points to a higher growth rate in the coming years.
The National Assembly has decided that Vietnam needs to obtain a GDP rate of 6.2 percent in 2015, a 10 percent increase in export turnover, a 5 percent drop in trade deficit and a 5 percent CPI increase.
The Wall Street Journal on November 26 reported that Vietnam has officially issued a policy allowing foreigners to own immovable assets in Vietnam. The amended law allows ownership certificates with the validity of up to 50 years.
The newspaper commented that the new law will help push up demand in the real estate market, which will help real estate developers clear their stocks and help commercial banks settle bad debts.
Reuters, in its article about the prospects of Vietnam's economy, predicted that the bad debt ratio of the banking system may fall to below 3 percent of the total outstanding loans, while the credit growth rate may reach 12 percent after many months of stagnation.
Meanwhile, Bloomberg praised the State Bank's Circular No 36 which aims to control cross-ownership in commercial banks and tightens control over lending to fund securities investments, in an effort to ensure financial sustainability.
Van Minh