VietNamNet Bridge - Panasonic has opene its first electrical equipment factory in Vietnam after 20 years importing products into Vietnam.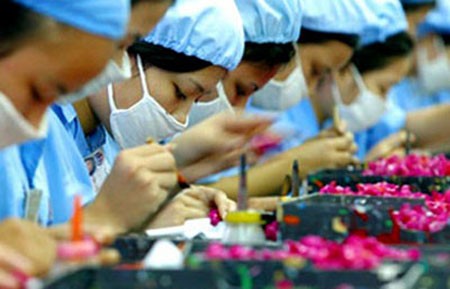 Previously, Panasonic products sold in Vietnam were imported from Thailand and Malaysia. According to this company, the demand for its products in Vietnam has increased by 140% in recent years so the firm decided to build a $19 million factory in Vietnam to produce electrical equipment.
However, the reality may be different because this factory will also export its products to Laos, Cambodia, Thailand, Myanmar and Japan. This shows that the main reason for the construction of this factory is to serve Panasonic's development strategies in the region.
In Southeast Asia, Panasonic is known for products such as rice cookers, irons, washing machines, and refrigerators. In the segment of wires, sockets, circuit breakers ... Panasonic products do not have much advantage over Korean brands and even Chinese products. Thus, the investment in the plant in Vietnam shows a shift in the company's strategy to compete for market share in this segment.
In the eyes of investors, is Vietnam's advantage only cheap labor?
Mr. Takashi Ogura, Director of Panasonic Vietnam, said Vietnam's market is very promising, with increasing demand for high-end household electrical products. However, except for labor, Panasonic has to import the entire machinery and raw materials so the selling prices of the products manufactured by the factory in Vietnam will be only slightly lower than imported products of the same kind.
Until Vietnamese enterprises can provide raw materials to Panasonic, the firm will give priority to purchase domestic raw materials to increase the proportion of local content and reduce production cost. It is a polite commitment from Panasonic but its implication is very clear: except for cheap labor, Vietnam does not have anything to respond to the needs of Panasonic.
More opportunities
For over 20 years, the local household electrical equipment market of Vietnam has developed slowly in the segment for wires, sockets, voltage stabilizers and circuit breakers. If Korean circuit breakers and electrical switches have prevailed as the best, then Vietnamese voltage regulators and power sockets have gained the upper hand, with Lioa and Standa as popular brands.
In the market segment for electrical wires, products of Vietnam and Korea are also winners. In the late 1990s, LG built an electrical wire and cable factgory in Hai Phong. This suggests that in Vietnam, Panasonic or Japanese firms in general are "latecomers", and they will have to compete fiercely to win the local market.
Minh Son