VietNamNet Bridge - Wealth-X and the Union Bank of Switzerland (UBS) have published a report on people in the world in 2014 with assets of at least over $30 million. Vietnam has 210 representatives with total assets of $20 billion.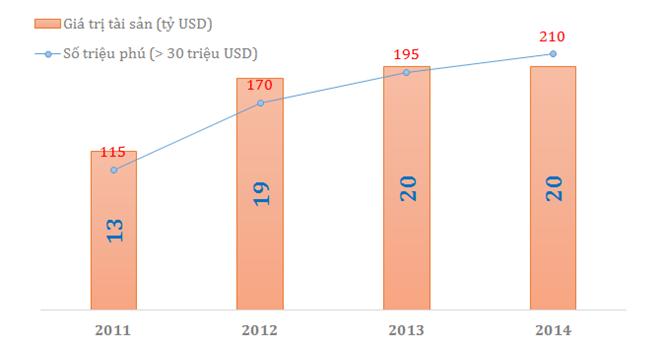 The number of rich people in Vietnam and the total assets as reported by Wealth-X and UBS.
Compared with last year, the number of US dollar millionaires of Vietnam has increased by 15 people but the total assets have not increased.
However, compared with 2011 and 2012, the number of super-rich people in Vietnam has increased considerably. Specifically, in 2011, Vietnam had 115 millionaires with the fortune of about $13 billion. The figures rose to 170 people and $19 billion the next year.
Earlier, Wealth-X and UBS announced that Vietnam has two billionaires with assets of about $3 billion. Although the names were not revealed, one of them is said to be Mr. Pham Nhat Vuong, President of Vingroup. He is also the sole representative of Vietnam on the list of Forbes billionaires.
This year's report of UBS and Wealth-X recorded 211,275 super rich people worldwide, holding assets worth nearly $30 trillion. Compared with last year, the number increased by 6% and the property values rose by 7%.
The United States still takes the lead with nearly 1/3 of the names in the list, and accounts for $9.63 trillion of assets.
In Asia, Japan has 14,270 super-rich people with assets of $2.335 trillion, while China has 10,675 people who own $1.515 trillion of assets.
Hoang Tu