VietNamNet Bridge – Vietnam Petroleum Institute (VPI) and Geological Survey of Denmark and Greenland (GEUS) signed a research collaboration agreement that aims to address future oil and gas challenges in Viet Nam.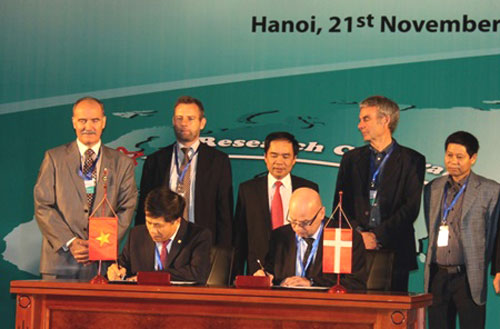 Leaders of Petrol Vietnam Institute and Geological Survey of Denmark and Greenland inked the MoU for research collaboration to provide reliable and "demand-driven" research services to the public and oil and gas industry. 
The memorandum of understanding (MoU) that specifically aims to provide reliable and demand-driven research services to the Vietnamese public and oil and gas industry was signed at the concluding conference of the Enhancement of Research Capacity (ENRECA) project, which opened here on November 21.
ENRECA is a research co-operation project between Vietnamese and Danish research institutes that aims to enhance research capacity in geological expeditions.
The Danish International Development Agency (Danida) funded the project, which was implemented in three phases.
One of the project's main activities include the drilling of three stratigraphic core wells in Song Ba Rift, Phu Quoc Island and Bach Long Vi Island.
The wells provided the Vietnamese and Danish research teams with continuous cores of excellent quality which have been analysed for various purposes, including source rock potential, petrography and reservoir properties.
At the conference, Dr. Phan Ngoc Trung, VPI general director, said the project has provided a framework for long-term research co-operation between Vietnamese and Danish geoscientists.
The conference, which the VPI, GEUS, Hanoi University of Mining and Geology and Hanoi University of Natural Sciences organised, focused on fruitful co-operation between Vietnamese and Danish scientists as well as ENRECA project achievements.
Trung said: "Over the years, VPI has benefited from the ENRECA project, especially the state-of-the-art technology with which we have been provided for practice."
He believed the ENRECA results would help VPI to better assess Viet Nam's oil and gas potential and enhance VPI researchers' capabilities.
Christian Brix Moller, Danish deputy head of mission, said he was pleased "to see that the means provided by Danida over the years have facilitated this long-term co-operation and integration of knowledge between Danish and Vietnamese geoscientists."
He added that the long series of important and multi-folded achievements in technology transfer and capacity building have contributed to the sustainable development of Viet Nam's oil and gas sector in particular and of the entire country in general.
On the occasion, VPI leaders also gave awards to Danish experts Ioannis Abatzis, ENRECA project manager, and Lars Henrik Nielsen, GEUS head of stratigraphy, for their outstanding contribution to the Vietnamese oil and gas sector.
The conference also included in-depth presentations of Vietnamese and Danish scientists that aim to highlight results of ENRECA's third phase, especially the analysis of the core well in Bach Long Vi Island and sharing of new information for the upcoming geological expedition in Song Hong Basin.
VNS/VNN