VietNamNet Bridge – The majority of shipping firms have been taking losses over the last five years, while some have sold ships.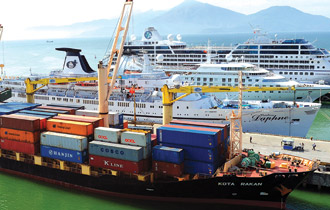 The Viet Hai Shipping and Real Properties Corporation (VSP) and Vinaconex Trans JSC have been forced to delist after taking losses for three consecutive years. VST, which now lists shares on the HCM City Stock Exchange, may also face the same problem if it cannot sell its ships.
Other shipping firms have reported improved profits in the third quarter of the year, but the profits came from the selling of assets.
In September, VOS announced it successfully sold the 30-year-old Silver Star for $5.1 million, or VND107 billion. The successful deal has reportedly saved VOS from incurring losses, while helping it obtain a pretax profit of VND61 billion.
PJT has also reportedly made a profit of VND5 billion thanks to the liquidation of Ham Luong 1 and Ham Luong 3 ships. The deal added VND4 billion to the company's profit, while shipping services, its core business field, brought the modest profit of VND927 million.
A report from VPB Securities Company showed that the profits of freight & forwarding companies in recent years do not come from shipping lines, but from liquidating assets and from investments deals.
In 2011, VST once sold Phuong Dong 3 for VND59 billion. In 2013, it sold VTC Light for $4.025 million, or VND88 billion. Meanwhile, VOS sold four ships in 2013 alone, including three ships over 30 years old, reaping VND223 billion.
However, selling properties to stop losses is not the solution for all the unprofitable shipping firms. VST put Vien Dong 3 on sale in 2013, but it has not found buyers.
In fact, all the shipping firms in the world have suffered from the global economic crisis. However, Vietnamese firms are believed to sustain bigger losses than others because of the low competitiveness caused by the structure of the fleet.
While Vietnam has abundant small-tonnage vessels, it lacks big ships. It has many ships to carry general goods, but lacks ships capable of running on international routes.
Besides, the big losses incurred by Vietnamese firms, according to analysts, is also the consequence of unreasonable investment strategies.
Some years ago, shipping firms rushed to buy vessels after the forecast about the bright future of the maritime industry. They tried to buy more and more ships even though bank loan interest rates soared to a record high in 2011.
Analysts believe that Vietnamese shipping firms still cannot recover because of the high financial costs, which cannot be offset by modest profits.
VOS is a typical example. The gross profit of VOS is VND205 billion a year. Meanwhile, it has to pay VND233 billion on average on financial costs, 60 percent of which is paid for bank loan interest rates.
In order to stop losses, VOS has to sell some of its vessels. It plans to sell Diamond Star in the fourth quarter for $4 million, and is considering selling another two ships. The shipping firm is now negotiating with banks on restructuring its debts.
Thanh Lich