VietNamNet Bridge – The State Bank of Vietnam (SBV) has succeeded with its macroeconomic management policies, international financial experts have said.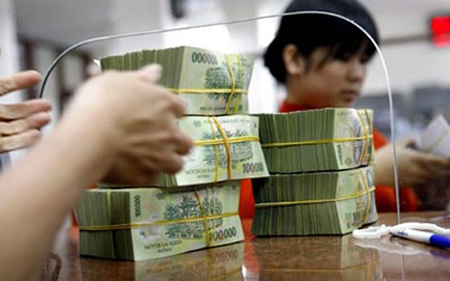 Stable local currency, increased foreign currency reserves and lower inflation have all paved the way for the bank loan interest rate to fall over the last 12 months.
In general, SBV has been successful in macroeconomic management, according to Atul Malik, former Asian CEO of Deutsche Bank and business director of Citi Bank in Hong Kong.
Vu Minh Truong, deputy general director of VP Bank, said the reasonable monetary policy serves as a firm foundation for macroeconomic stability.
"SBV is pursuing policies which help curb the inflation rate and stabilize the dong/dollar exchange rate – the most important factors for the macroeconomic stability," Truong said.
Fitch Ratings has just upgraded Vietnam's ratings to 'BB-' from 'B+' which takes into account the improvement in macroeconomic stability and favorable external finances.
Victoria Kwakwa, Vietnam Country Director of the World Bank, said this is a worthy reward for Vietnam's achievements in stabilizing the macro economy.
Meanwhile, Truong of VP Bank praised the recent SBV's move of easing the interest rates to "reasonable levels", which creates better conditions for businesses to expand their production.
The ceiling for the dong deposit interest rate has been cut to 5.5 percent from 6 percent for short term (less than 6 months) deposits, while the dollar interest rate has been cut to 0.75 percent from 1 percent. It has also lowered the ceiling for short-term lending interest rates applied to five priority business sectors, to 7 percent from 8 percent.
The monetary market has been stable over the last few years. The dong/dollar exchange rate has been stable under the control of the central bank, while the foreign exchange market liquidity has been good.
Truong noted that the dollar price goes sometimes fluctuates, but in general the purchasing power and supply are in balance.
"The dong/dollar exchange rate has been hovering around VND21,200-21,300 per dollar, very stable if compared with the exchange rates between dong and other foreign currencies," Truong said.
Regarding the foreign exchange market's prospects in the medium term, he said the foreign currency supply was ample.
Vietnam had a trade surplus of $2 billion in the first nine months of the year. Meanwhile, it also has foreign currency sources from kieu hoi (overseas remittance) and foreign investment. This has allowed the central bank to buy foreign currencies from commercial banks at "reasonable prices".
Commenting on the restructuring of commercial banks, settling bad debts and providing credit, Alderman Fiona Woolf, the Lord Mayor of the City of London, said that Vietnam had been following the right path on settling the financial sector's problems, as the sector plays a very important role in the national economy.
Nguyen Giang