VietNamNet Bridge – In order to create one dong of profit, businesses have to pay VND0.7-1 for "under-the-table fees".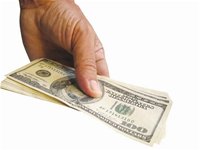 Nguyen Hoang Anh, director of a private civil engineering company headquartered in a northern mountainous province, complained that he has been cheated by local state officials.
Some months ago, Anh heard that the province had decided to allocate a big budget for the project to build a new road. He tried to contact officials of the state agencies involved in the project, saying that he wanted to become the contractor.
Anh said he had to pay a lot of money to the officials who promised him he would win the bid. However, he was not named the contractor. Anh thinks the other company won the bid because it offered more money to officials.
Anh said he would not report the bribery case to the police because he thinks it is normal for state officials to receive money from businesses.
Unlike Anh, 11 directors in Thanh Hoa province denounced the heads of the provincial port authorities for taking bribes from businesses.
Information about the bribery has stirred up the public, while the Minister of Transport Dinh La Thang has ordered an investigation.
The stories of Anh and the 11 directors in Thanh Hoa show that paying money to lubricate the civil authority apparatus is "quite a normal thing" in Vietnam.
A Hanoi-based bank told T&C, a consultancy firm which conducted a survey on the business environment as per the request of DFID (Department for International Development), that the bank has inspection tours twice a year.
When receiving inspectors, the bank always has to give "gifts" and "envelopes with money inside" to the inspectors to reward their "hard inspection work".
T&C quoted the banker as saying that the value of the gifts and envelopes given to inspectors depend on the seriousness of the bank's problems.
The banker revealed that every inspector receives VND30 million on average for every inspection campaign.
A representative from another business told T&C that civil servants always try to find minor mistakes and ask for more documents from enterprises. And in order to get their documents approved, businesses have to pay money to help "improve officers' health".
A T&C report showed that in 2009-2011, every surveyed business had to spend VND400-600 million on "unofficial expense items", but still could make a pre-tax profit of VND512-646 million every year. As such, the underground fee is equal to 78-107 percent of businesses' pre-tax profits.
TBKTSG