VietNamNet Bridge – With a new $3 billion project, Samsung's total investment capital in Vietnam has reached US$11.2 billion, becoming the largest foreign investor in the country.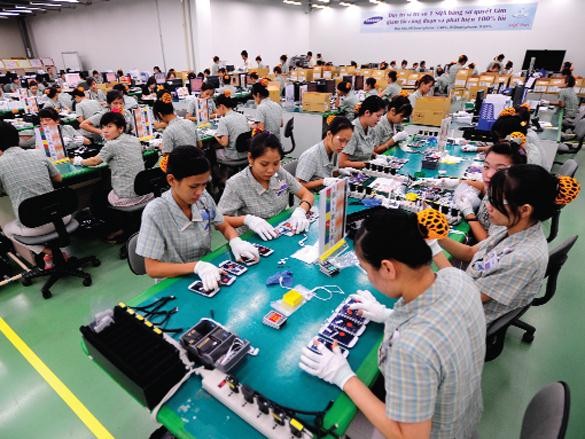 Today, November 11, the authorities of Thai Nguyen province will grant an investment certificate for Samsung Electronics Vietnam Thai Nguyen Co., (SEVT), to build a new mobile phone factory, besides the first $2 billion plant, which began operational in April 2014.
Although the details of the $3 billion project have not been disclosed, according to some sources, the plant will manufacture the latest generation mobile phones.
According to Samsung's plans, when the plant goes into operation, the total number of workers of its three mobile phone factories in Vietnam will reach 100,000.
Currently, the number of its employees at Samsung Bac Ninh is 43,000 and 23,000 at Samsung Thai Nguyen. This project also enjoys the highest preference, with conditions on research and development (R & D).
This can be understood that the new plant will also enjoy investment incentives for a high-tech project. The incentives for Samsung Thai Nguyen were approved by Prime Minister Nguyen Tan Dung in late October 2014, and as soon as possible, SEVT filed its project to the relevant agencies. Very quickly thereafter, the project was granted an investment certificate.
According to a source, the $3 billion will be disbursed over five years or even shorter. The source also said that Samsung Thai Nguyen project has disbursed about $1.5 billion after 1.5 years of construction (from late March 2013) to become one of the foreign-invested projects with the fastest rate of disbursement in Vietnam.
With the new project, Samsung's total investment in Vietnam is up to $11.2 billion, including a $2 and a $3 billion mobile phone project in Thai Nguyen, a $2.5 billion project in Bac Ninh, an electronic project worth $1.4 billion in HCM City, a $1.23 billion chip and electronic component project and a $1 billion high resolution screen project.
Currently, Samsung contributes up to nearly 20% of the total export turnover of Vietnam. Samsung is on the process of turning Vietnam into its global manufacturing base and becoming a "strategic partner" of Vietnam.
Na Son