VietNamNet Bridge – A number of big state-owned enterprises (SOEs) are eagerly awaiting significant cash injections from private Vietnamese businesses to carry out their equitization plans.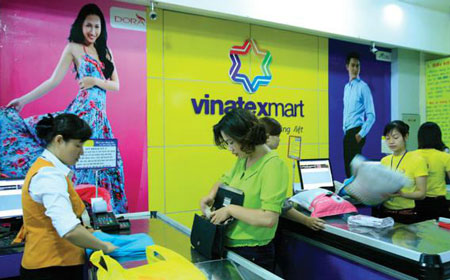 The HCM City Stock Exchange (HOSE) reports that 90 percent of the Vietnam Textile and Garment Group (Vinatex) shares put on sale at its IPO (initial public offering) have been sold.
This was not a surprise to investors, as the number of shares sold equalled the number that investors had previously registered to buy, while the selling price was equal to the starting price, at VND11,000 per share.
As such, 11 million Vinatex's shares out of the 122 million shares put on sale could not be sold, although the IPO attracted 30 foreign investors who bought 55 million shares, and three securities companies, which ordered shares in large quantities.
An analyst noted that the unsold volume of shares would have been much higher if Vinatex had not met two Vietnamese strategic investors.
Vingroup, a powerful real estate conglomerate, and VID Group, both bought 120 million shares, the maximum amount of shares reserved for strategic shareholders. Of these, 50 million shares were sold to Vingroup (VIC) and 70 million to VID.
The figures showed that it is not easy to sell SOEs, even though Vinatex is the leading company in the textile and garment industry.
Vocarimex, a vegetable oil company, holding 20-25 percent of the market share, did not gain big achievements at its IPO, though it has many good brands.
Kinh Do Group, a sweets manufacturer, and VP Bank Securities were selected as strategic shareholders, buying 24 percent and 8 percent of shares, respectively.
Among the names who recently bought 31 million SASCO shares (Tan Son Nhat Airport Air Service Company) was Imex Pan Pacific, a group owned by well-known businessman Jonathan Hanh Nguyen.
Three subsidiaries of the group, including IPP, DAFC and ACFC, bought 16 percent, 5 percent and 2.6 percent of SASCO's shares, respectively.
The analyst noted that SOEs want to sell their shares to wealthy private entrepreneurs  to withdraw capital from banks and financial institutions as requested by the government.
Why domestic investors?
Vietnamese investors are paying a lot to buy shares of SOEs that have not been prosperous, while foreign investors are more hesitant about such deals.
Vinatex, for example, has had an unsatisfactory business performance with a return on equity (ROE) at 5-6 percent. SASCO's ROE is around 10 percent and the profit growth rate is 5 percent.
The big tycoons who bought SOEs' shares in large quantities had their own reasons to inject money into the enterprises. IPP can see the great potential of doing business with duty-free shops at airports, which is believed to be the reason behind its decision to buy SASCO shares.
Meanwhile, Vinatex was the target of Vingroup because it can bring high value in fashion and e-commerce, two fields that Vingroup is developing.
Manh Ha