VietNamNet Bridge – Many investors in the textile and garment sector would like to take full advantage of the benefits they would receive under the proposed TPP (Trans Pacific Partnership Agreement) and the FTAs (free trade agreement) with the EU and South Korea. However, investment needed for such projects, particularly for raw materials, is prohibitively high, they contend.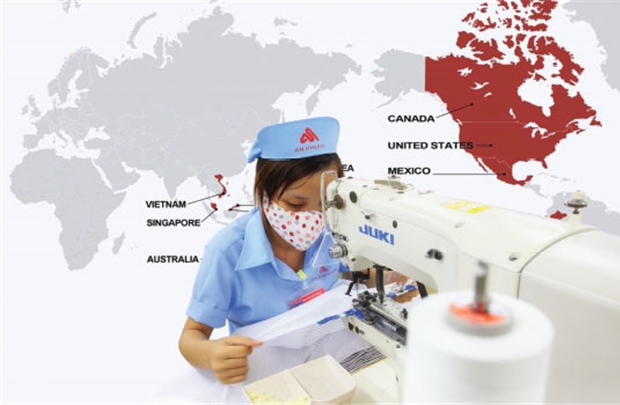 Though Vietnam aims for a 80 per cent ratio of locally made content in garments by 2020 from the current 45 percent, only a few Vietnamese companies can organize closed production lines, or all phases of the production process, from weaving to dyeing to garments to trimming.
Ngo Trung Kien, general director of Saigon 2 Garment Company, noted that most Vietnamese companies are small- and medium-sized, and lack financial capability.
It is also more costly to invest in a garment workshop than in a textile factory.
It takes $20-30 million on average to set up a dying and weaving factory, while it requires only VND1-2 billion to open a garment workshop.
Regarding material sources, Tran Anh Hao, general director of Vietnam Cotton JSC, noted that Vietnamese farmers do not like growing cotton because they receive no support from the State.
With low productivity, his company can only satisfy 5 percent of domestic market demand, while the domestic cotton price is less competitive than imports.
Phan Thi Hue, chair of Thanh Cong Textile and Garment JSC, complained that though TCM is running closed production lines, it still has to import about 10 percent of materials from Indonesia.
A senior executive of Vinatext, the largest Vietnamese textile and garment maker, noted that the biggest challenges for Vietnamese businesses are investment capital, technology, workforce and consumption.
Phong Phu Textile JSC, a large jeans fabric maker and supplier, for example, sells 100 percent of its products to Vietnamese companies, but it still cannot sell to any foreign invested enterprises (FIEs).
Meanwhile, 60 percent of the thread made by Phong Phu-Coats is sold in Vietnam only because the importers have told the garment companies to use Coats' thread.
Le Quang Hung, chair of GMC, a trade and garment company, said the investment rate in garment materials was getting higher partially because of high costs to build and run waste water treatment systems.
Hung said that the high costs have made investors wary. "It is very costly to invest in dyeing and weaving, and it is difficult to run dyeing and weaving workshops," he added.
Some provinces have said that textile and garment projects were not welcomed for fear of environmental problems.
A GMC dyeing and weaving project, for example, has been turned down by local authorities because the investor could only build a waste water treatment system that puts out B-level waste water (which can be used to grow vegetables and farm fish). The local authorities demanded A-level waste water (that is, drinkable).
DNSG