VietNamNet Bridge – Vingroup's leap into the retail market is expected to give Vietnamese retailers better opportunities in the domestic market, which is dominated  by foreign players.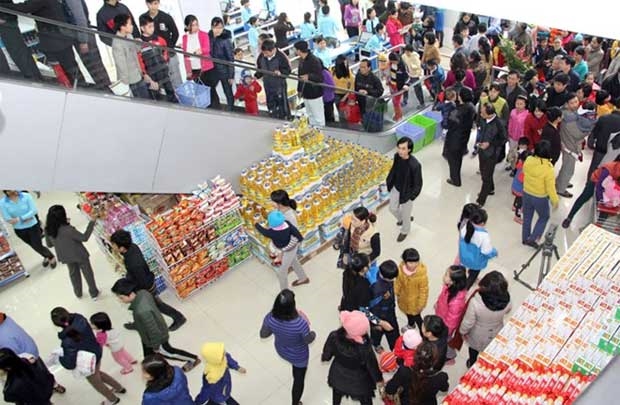 An analyst said that Vingroup, together with Saigon Co-op, a popular store, specially with southerners, would help redraw the map of the retail market and protect domestic retailers' market share.
High potential
Statista, a German market survey firm, said that Vietnam is an attractive retail market with expected retail turnover of $80 billion in 2014 and $100 billion in 2016.
Because of the potential, three local groups, Son Ha, a mechanical engineering group, Ocean Group, a finance & banking investor, and Vinatex, a textile & garment manufacturer, joined the retail market in recent years.
However, they were amateurs in the field and had to return to their core business fields. Ocean Group, for example, in early October had to sell 70 percent of shares of Ocean Retail, one of its subsidiaries, to Vingroup.
Son Ha Group began conquering the retail market in 2011 when it set up Hiway Vietnam, a subsidiary, which runs Hiway Supercenter chain. However, the business performance of the first supermarket was not good, and its plan to open new supermarkets has been delayed many times.
Sources say that Son Ha is considering selling the supermarket chain to a Japanese investor, though it said previously that it would not shrink back from any competitor.
Meanwhile, professional retailers such as Nhat Nam, which owns 15 Fivimarts, and Dong Hung, which owns 26 Citimarts, have also been facing major difficulties and have become the  "aiming point" of Aeon, a retailer from Japan.
Japanese newspapers have reported that Aeon is planning to work with Nhat Nam and Dong Hung to quickly expand its network in Vietnam.
Under the plan, Aeon would sell food and consumer goods bearing the Top Value brand, sourced from Aeon Thailand and Malaysia.
After an initial period, Aeon would then join forces with Vietnamese food and consumer goods manufacturers to make and distribute Aeon's private brand products.
Yukio Konishi, president and CEO of Aeon Mall Vietnam, in an interview given to Dau Tu, a local newspaper, said that domestic retailer would find it difficult to compete with Aeon.
The newcomer
Vingroup, the giant real estate company, is also inexperienced in the retail sector but it has powerful financial capability.
Earlier, it unexpectedly bought 50 million shares, or 10 per cent of Vinatexmart, a retail chain which has not been very successful. Most recently, it bought 70 percent of Ocean Retail's shares and changed the retail name to VinMart.
With the two brands of VinMart and Vinmart+, Vingroup plans to develop a retail chain comprising 100 supermarkets and 1,000 convenience stores throughout the country in the next three years.
Vingroup also has VinEcom, an e-commerce brand, which is expected to help enhance Vingroup's position in the retail market.
DNSG